2024 Jeep Wrangler Willys 4 Door: Price, Interior & Specs – The Jeep JL Wrangler is getting a significant redesign for the 2024 model year, but don't worry; it will still have the same iconic appearance as previous generations of the Wrangler. The car manufacturer claims that the redesigned SUV will be the most off-road-capable Wrangler ever produced, in addition to including an upgraded interior that offers additional convenience features.
Off-roading is what the Wrangler is all about, and Jeep has chosen to make it even simpler for owners by adding a few additional pieces of equipment to Rubicon versions. This is part of the company's decision to make the Wrangler even more popular. The vehicle manufacturer has announced that the full floating Dana 44 HD rear axle, which is a robust axle type often used on heavy-duty commercial vehicles, is now available as an option for the Wrangler Rubicon. According to Jeep, the upgraded Rubicon now has a maximum tow rating of 5,000 pounds thanks to the increased strength provided by the new axle, which is ideal for customers who wish to install larger aftermarket tires on their rigs. Jeep claims that if you get your Rubicon stranded, you can now have a factory-installed Warn winch capable of hauling 8,000 pounds if you purchase one. That ought to be plenty to make up for the unavoidable mistakes you'll make off-road.
However, off-road improvements aren't limited to only the Rubicon edition of the Wrangler. New for the 2024 model year, Wrangler Willys vehicles come standard with 33-inch tires, which is an increase of one inch above the previous year's size, and increased fender flares for improved tire clearance.
Redesign
From the exterior, the 2024 Wrangler does not seem to have undergone a great deal of transformation. That shouldn't come as much of a shock to anybody. Having said that, this particular refresh comes with a few novelties despite being halfway through the cycle.
The distinctive seven-slot grille has received a refined makeover, and this will be the first change that you see. The grille-within-a-grille design made its debut on the Rubicon 20th Anniversary, which was unveiled earlier this year and will be standard equipment on all Wrangler models beginning in 2024.
In addition to that, there are ten new wheel designs available, with diameters ranging from 17 to 20 inches. Additionally, Jeep has taken the Wrangler into the 21st century by removing the archaic radio whip antenna in favor of an antenna that is built into the windshield glass. This is one more way that Jeep has transported the Wrangler into the modern era.
A handful of additional models are going to be added to Jeep's already extensive Wrangler roster in 2024, in addition to the exterior updates that are going to be made. The Sport S 4xe and the Rubicon X are both brand new for the year 2024.
You are correct in assuming that the Sport S 4xe is a more economical trim level of the plug-in hybrid 4xe; however, the actual cost for this model has not yet been disclosed. 2024 Jeep Wrangler Willys 4 Door models of the Jeep Wrangler 4×4 are now the most affordable option, with prices beginning at just around $55,000 for the base model. Increasing the use of electricity is never a negative idea.
You may think of the Rubicon X as a Rubicon dialed up to 11 with a few more optional features already baked into the package. This is how you can think of it. It comes standard with a built-in off-road camera, steel bumpers, and, on non-hybrid vehicles with automatic transmissions, factory-installed 35-inch tires (an improvement from the previous 33s). In addition, it has an integrated off-road camera. Acoustic glass, a nine-speaker Alpine sound system, and Nappa leather seats are all standard features included on the inside of the Rubicon X.
The Wrangler Willys will have increased 4×4 capabilities in 2024 thanks to the addition of a new standard Tru-Lok rear locker, steel rock rails, trailer tow, and heavy-duty electrical group, as well as wider 33-inch tires (instead of the 32-inch tires that were previously available). In addition to this, the Willys 4xe is equipped with a Selec-Trac full-time transfer case that has a 4LO ratio that is set at 2.72:1.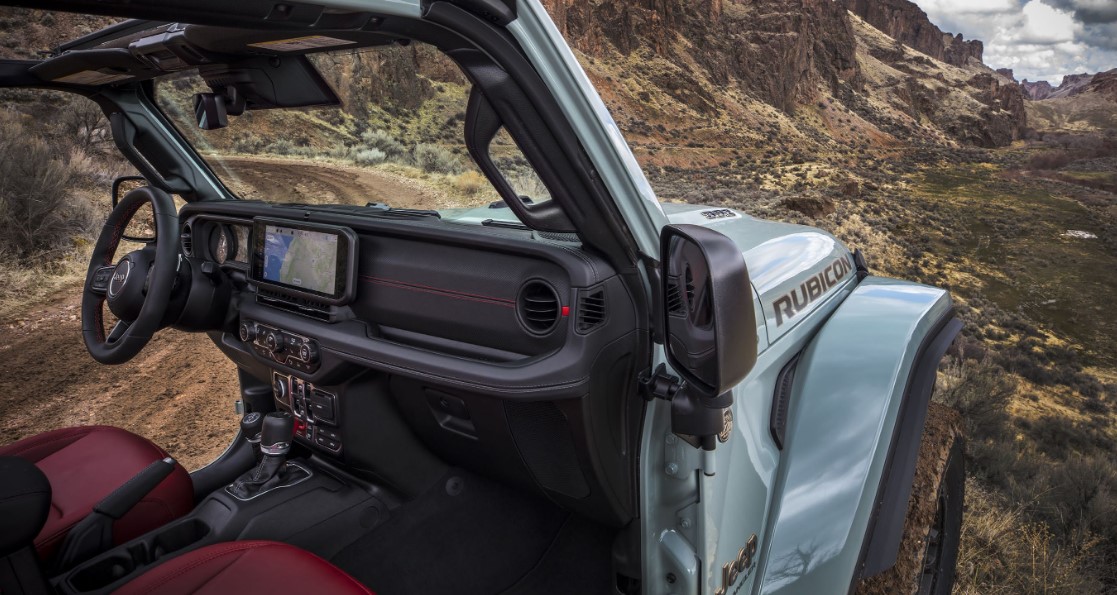 Interior
Significant technological improvements have been made to the cabin of the Wrangler 2024 model year. The highlight of this upgrade is a whole new dashboard touchscreen measuring 12.3 inches and powered by Stellantis' UConnect 5. This brings the Wrangler up to date by providing a screen that is fresher, quicker, and with updated visuals that are consistent with the rest of the Stellantis portfolio.
Jeep states that the new system will also come with a built-in software called Routes Offroad that will take drivers through 62 different off-road routes that are part of the "Jeep Badge of Honor" program. If those 62 trails aren't enough for you, there is an upgradable membership that will unlock a complete library of over 3,000 trail guides to ensure that you never get lost when off-roading. This will ensure that you have a safe and enjoyable experience.
Additionally, purchasers will have the option to choose optional front seats that are power-adjustable in a total of 12 different ways. Jeep even claims that the seats have been put through water forging tests, so you shouldn't be very concerned about the possibility of damaging the electronics if the water crossing is deeper than you had thought.
For the 2024 model year, the Wrangler will be equipped with standard side-curtain airbags for both the first and second rows of seating. You will now also receive standard collision warning and standard radar cruise control that will bring you to a complete stop if you have the Sport S trim level or a higher level of the vehicle. Both of these features are now standard. The manufacturer goes on to note that park-assist, blind-spot warning, and cross-path detection are now included as standard equipment on High Altitude, Rubicon X, and Rubicon 392 vehicles, while they are available as an upgrade on lesser trim levels.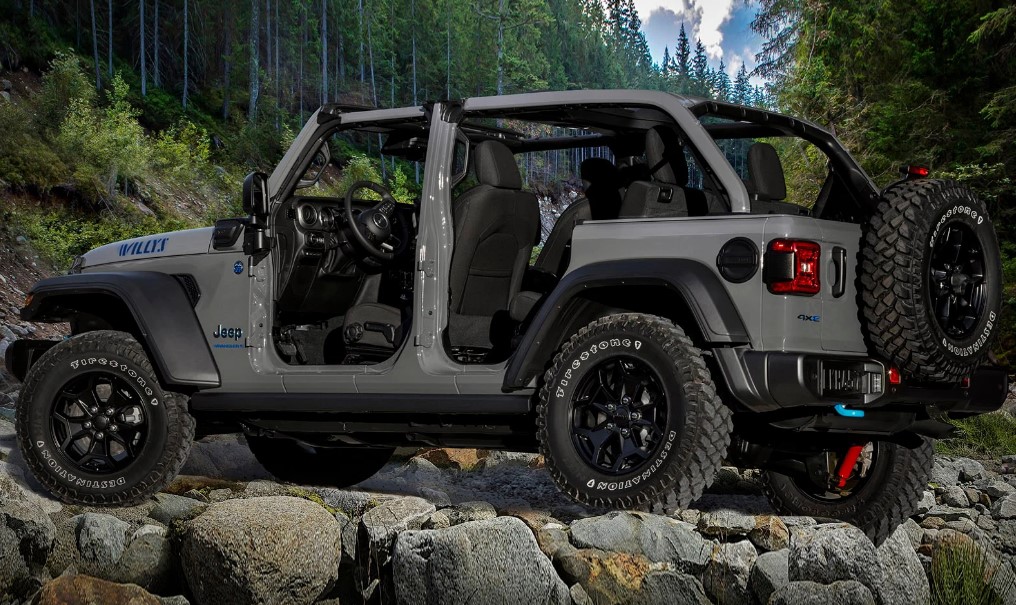 Specs
Jeep anticipates that hybrid vehicles will play a significant role in the company's future. According to the manufacturer, by the year 2025, each and every model in the Jeep portfolio sold in North America will be offered the option of an electric powertrain of some kind. And that's only the beginning: Jeep anticipates that by the year 2030, completely electric cars will account for half of their sales in the United States.
As a result of this effort toward electrification, Jeep is now in a position to provide a "Power Box" option for Wrangler 4xe vehicles. It is essentially four power outlets that operate at 120 volts and gives you the ability to utilize the plug-in hybrid battery to power any of your energy-intensive electronic gadgets. This is not really anything new in the world of automobiles, but it is a fascinating function and a cool party trick that you can do with your vehicle.
Let's begin with the very few yet significantly important mechanical modifications that have been made. Most significantly, the EcoDiesel V6 engine has been rendered useless. Buyers of the basic Wrangler will have the option of selecting the Pentastar V6, the 2.0-liter turbocharged four-cylinder or the 6.2-liter "392" Hemi V8 beginning in 2024.
At this time, only the V6 may be paired with a six-speed manual transmission; both the turbo-four and the V8 are only available with an eight-speed automatic transmission. Now standard on all Rubicon models is a full-floating Dana 44 rear axle, which was originally developed for use in heavy-duty truck applications. This configuration separates the weight of the vehicle from the back axle, thus it is only subject to the twisting forces that are exerted by the axle itself. This axle also provides a crawl ratio of 100:1 when it is fitted with the Xtreme 35 package (which is no longer known as the "Xtreme Recon" package).