When it comes to eye-catching design and technology, you can count on the all-new 2023 Toyota Sequoia SUV. The SUV can handle anything with 437 horsepower and 9,000 lbs. towing capacity.
2023 Toyota Sequoia SUV, Toyota's most capable and sophisticated full-size car, comes with a new redesign to accompany your business every day. The design that's fiercer yet still comfortable to drive will make you feel like driving it more from day today. Everything is majorly upgraded to provide even better luxury than the previous generation.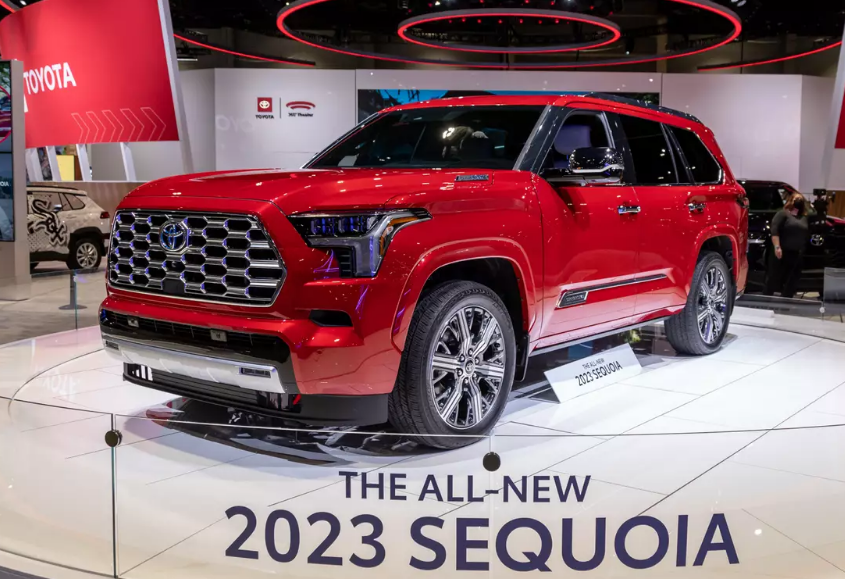 Stunning Design and Technology
The whole new Sequoia prides luxurious at the most. With a large panoramic sunroof, it is ready to showcase the natural beauty of the world from a peep from the roof. The available abundant leather seats enhance comfort further with assembled ventilated and heated first and second-row seats. Moreover, when passengers are prioritized, 2023 Sequoia is very relieved to be ridden by 6 passengers. The sliding third-row seat also makes lots of space for passengers.
2023 Sequoia has high technology improvements wrapped in new features. Moving into the inside, a superb 14-inch touchscreen display grants passengers all access to available multimedia entertainment. Furthermore, 10-inch head-up display (HUD) projects important information onto the windshield to provide uninterrupted driving. In addition to daily excursions, Sequoia provides trailer alternative guidance with Straight Path Assist and power tow mirrors to give the ultimate peace of mind when carrying more vehicles.
More Capable Engine
The sophisticated power of the 2023 Toyota Sequoia SUV is revealed every time you ride. It is powered by a standard 437 hp, 583 lb.ftiFORCEMAX hybrid powertrain ™ engine. High torque means the Sequoia has easy control over the road, and its advanced suspension and steering allow the car to get over the road smoothly and confidently. For up to £9,000, the towing capacity allows you to carry more than you need.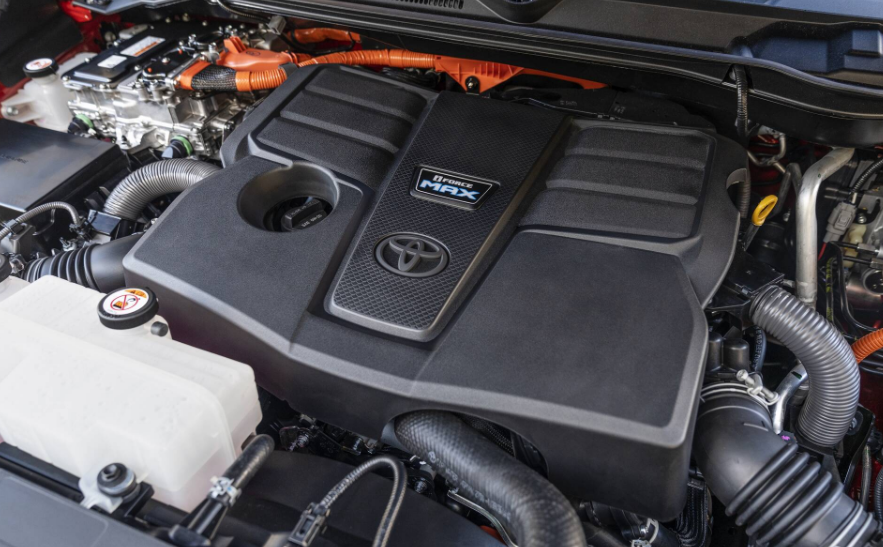 It Comes in 5 Trim Levels
2023 Toyota Sequoia SUV is planned to be manufactured in five models or trim levels, which are SR5, Limited, Platinum, TRD Pro, and Capstone. They are equipped with TSS (Toyota Safety Sense) 2.5 Technology, a camera system with panoramic mode, a wide-view moon roof, heated seats, and 12.3-inch digital instruments.
For the regular SR5 variant, the embedded infotainment screen is 8 inches, while for SR5 Premium, the screen is enlarged to 14 inches. The third-row seats of SR5 Premium can be folded with cargo and cabin space that has 120-volt power outlets.
Both SR5 variants carry the same sports package as TRD Pro. Bilstein monotube shocks with reset springs are attached to all three. These car models have matte-black 20 inches wheels, 2 inches wider than the standard wheels of other Sequoia models, except Capstone.
Slightly different from the SR5 Premium model, in the Limited model, there are additional features of heated steering wheels, ventilated and heated front seats, as well as sunshades for the second and third-row seats. SR5, Limited, and TRD Pro use a 4WD system. Several updated features are embedded in all three models, including the Multi-Terrain Select system, crawl and downhill assist control, a rear differential lock.
2023 Toyota Sequoia SUV Platinum comes with upgrades to the Limited model in form of additional ventilated and heated seats in the second row, automatic rain-detecting wipers, 14-speaker stereo, use of LEDs in the front and rear lights, and Qi wireless charging.
The features on TRD Pro have been described a little above. Buyers may be more suited to those who like to travel off-road due to the addition of a 0.25-inch front slip plate and Fox internal bypass shocks. Double exhaust is also added, so the off-road impression is really visible.
The last model is a high-end Sequoia model because it features a power running board and chrome accents. Capstone is fitted with four chrome-plated 22-inch wheels. For the interior, all seats are covered in semi-aniline leather with a black and white theme. The cabin is decorated in open-porous American walnut wood. The Capstone is planned to be no louder than other Sequoia models with additional dampers and acoustic glass on the front doors.
No Cost Maintenance Service
Every purchase of the new 2023 Toyota Sequoia SUV included will be supported by ToyotaCare. It is an official maintenance plan service from the Toyota factory that has been scheduled. The service will be provided for 2 years from the initial purchase or if the car mileage reaches 25,000 miles. The crossroad assistance is also provided 24 hours a day for 2 years without being tied to the car mileage.