If great styling and serene luxury are up high in your car priorities, then 5-Series may make a good option. Read below about the 2023 BMW 5 Series upgrades and release details.
The last model year of the BMW 5-Series accumulates some laments from automobile enthusiasts for its alleged inadequacy to deliver the same power as its predecessor. However, in general, it is still a well-equipped, comfortable, and roomy luxury car that offers an appealing package, especially considering the extensive range of engines to select from and the enjoyable interior that caters to road trips and long commutes. Discover how the 2023 BMW 5 Series will possibly roll out soon.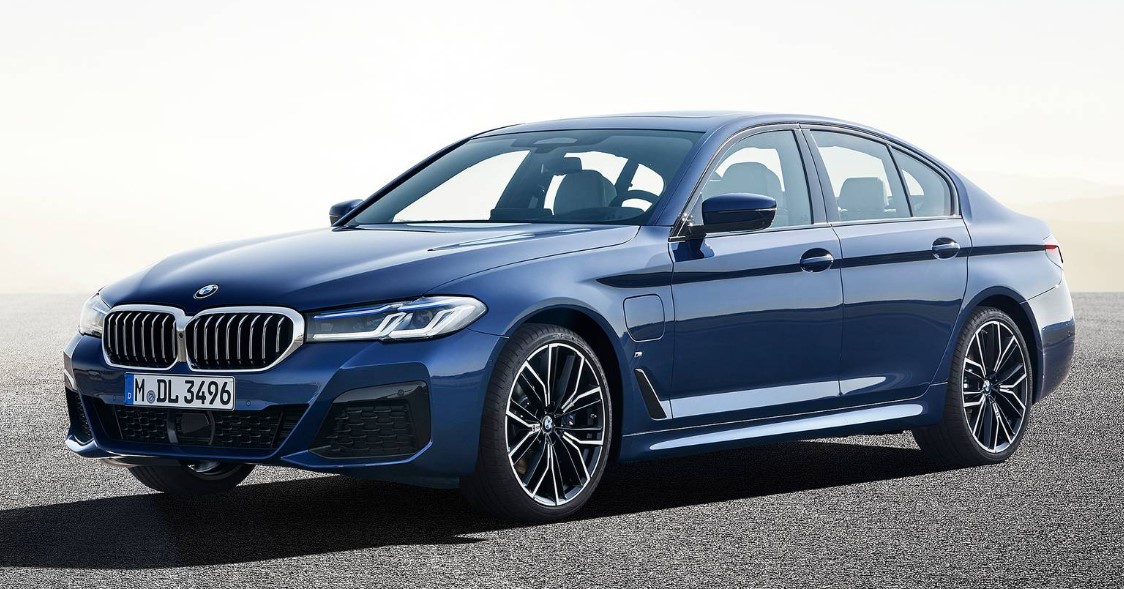 An Insight into the 5-Series
The BMW 5-Series is a luxury car produced and distributed since 1972 by BMW, as a replacement for the New Class Sedans. It sits as the second top-selling model by the manufacturer, only falls behind the 3-Series. In early 2008, the 5-Series hit its 5 millionth manufactured unit.
The car is currently in its 7th generation, which was revealed officially in 2016 with sales starting early in the next calendar year. There are three body styles offered within the range: a 4-door sedan, a 5-door wagon, and a 4-door long-wheelbase sedan. The 4-door Gran Turismo available in the prior generation isn't provided anymore as it was transferred to the BMW 6-Series.
Engines Range, Fuel Efficiency, and Safety Features
The 2023 BMW 5 Series brings a total of 7 powertrain options. The base trim 530i is powered by a 248 HP 2L turbocharged 4-cylinder engine, that also supported the 530e trim only with an electric motor addition. The 540i is equipped with a 335 HP 3L turbocharged 6-cylinder engine. The M550i, M5, M5 Competition, and M5 CS are supplied by 523 HP, 600 HP, 617 HP, and 627 HP 4.4L turbocharged V8 engines respectively.
The extensive engine alternatives range carried by the 5-Series is paired with only one gearbox, which is an 8-speed automatic transmission. The buyers can choose between an RWD or AWD variant.
Fuel economy-wise, the 530i receives 25/33 mpg city highway from the EPA. The 540i is rated at 25/23 mpg city/highway. Meanwhile, the V8 engine that powers the higher trim level earns 17/25 mpg city/highway ratings.
Each 5-Series model from BMW is given a set of active driving assistance features that consists of blind-spot monitoring, lane departure warning, automatic emergency braking, and automatic high beams. Purchasing the optional Driving Assistance Professional package and Convenience package adds a semi-autonomous traffic jam mode, lane-keeping assist, and adaptive cruise control functions.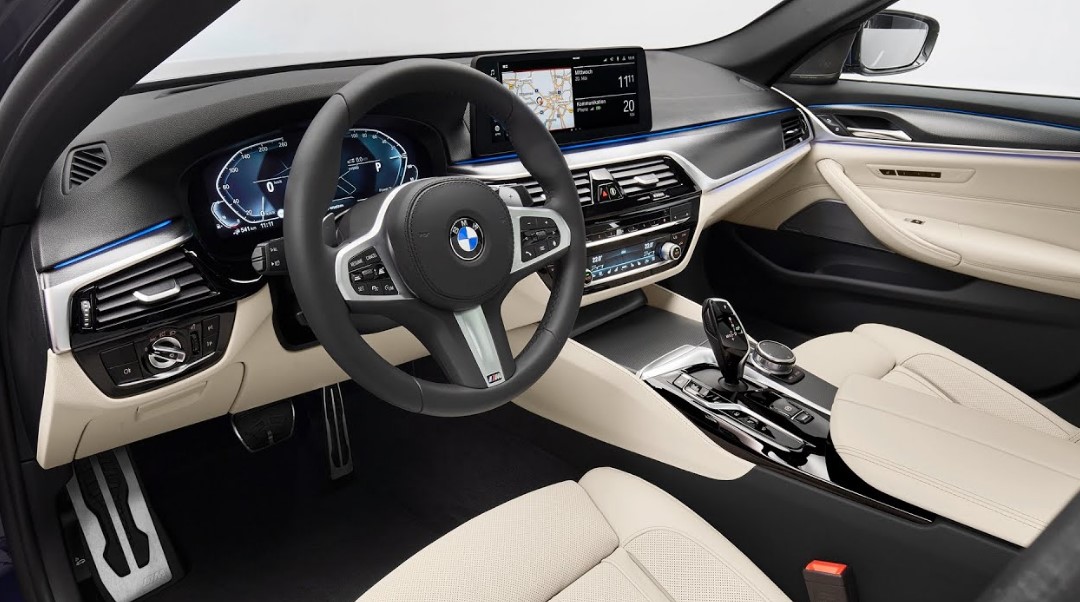 Exterior and Interior Updates
Up to this date, there's still no official announcement about the upgrades received by the 2023 BMW 5 Series. It is most likely to be a carryover model for the majority of parts. The only rather significant upgrade is the launch of a new M Sport Package Pro. This package offers various features that include a dark-toned rear spoiler, package-exclusive seat belts, shadow line lights, a super-polished shadow line, and a sports brake system with red brake calipers. Another addition acquired by the 5-Series is new exterior color options called the Skyscraper Grey Metallic and Arctic Race Blue Metallic.
In terms of interior, the upcoming 5-Series is expected to maintain its premium design and feature-rich cockpit. The cabin styling is one area that which this car receives a lot of praise. Moreover, the spacious room provided in the back-row seats and the available technology deserves a mention on their own.
Moving on to the technical features, the 2023 BMW 5 Series is expected to retain the 12.3" digital gauge cluster and the similarly-sized infotainment touch-based display. Some standard features are including Apple CarPlay and Android Auto compatibility and a navigation system, while optional features like a head-up display and gesture control are available. Unfortunately, the 5-Series loses several standard features starting from the last model year, such as a wireless hotspot and a wireless charging pad.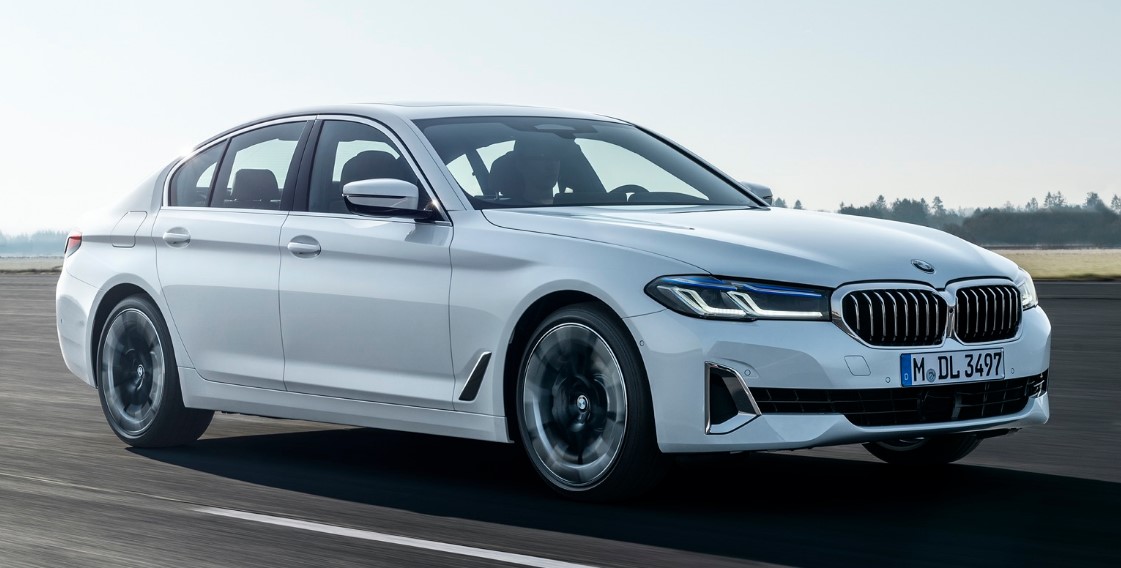 The 2023 BMW 5 Series Release Date and Price Details
The upcoming 5-Series is expected to go on sale in the summer of 2022, by being available to both the U.S. and global markets. Currently, it is assembled in three different BMW plant locations: Shenyang, China; Dingolfing, Lower Bavaria, Germany; and Magna Steyr, Graz, Austria.
The price information of the 2023 BMW 5 Series is yet to be revealed. That being said, it is predicted to experience a slight cost increase compared to the 2022 model year, in which MRSP, as a reference, starts at $54,200 to $142,000.