The Kia pickup truck release talks have been making buzzes for several years now. What is the possibility of Kia Truck 2022 arriving this year?
2022 is a big year for Kia, as the automobile manufacturer comes up with its first committed EV, a reimagined SUV, and a plug-in hybrid Sorento version. However, most car enthusiasts are still curious about the long-awaited pickup truck that has been rumored for years. Will this year bring out the Kia Truck 2022 launch? Keep reading below to find out.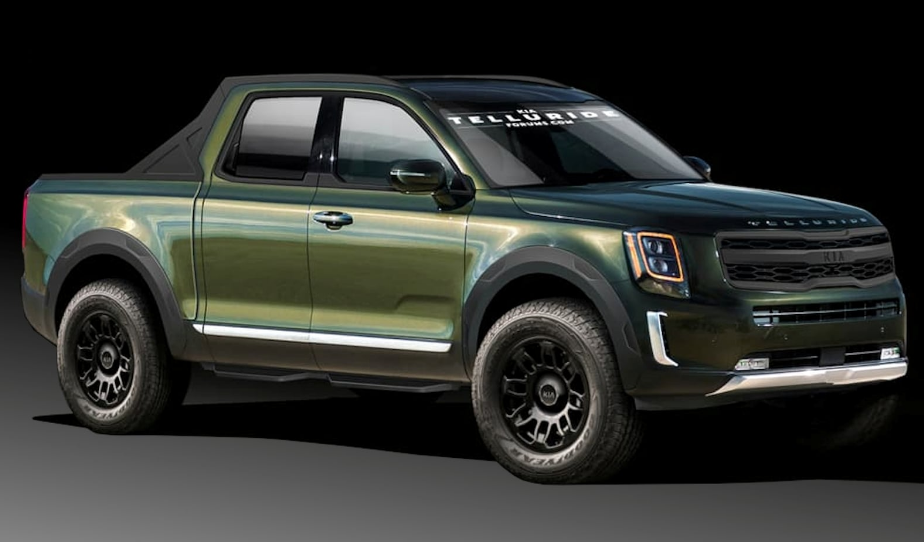 The Long-Rumored Kia Pickup Truck
Back in the 2019 New York Auto Show, the U.S. (and global, to an extent) market was hyped by the statement from the officials of Kia Motors America about the potential of an upcoming crossover-based pickup truck. It was said that there's an ample chance of this happening, despite how Kia was concentrated on their SUV products at that time.
A couple of years later, or today, in other words, Hyundai has released the Santa Cruz while there's no sign of Kia Truck 2022 to emerge. In the Australian market, where the automaker has hinted at a dual-cab model, there's hardly any indication that the Toyota Hilux and Ford Ranger's rival from Kia will arrive anytime soon.
This unfortunate situation is further supported by the statement of one of Kia Australia's officials, Damien Meredith, who brushes aside the brand's potential to penetrate the pickup segment in an interview in 2021, even though the development of 2022 launch was indicated to receive a green light since 2020. To cite Meredith's statement, the long-rumored feature from Kia is "…probably a long shot."
He further explains how there's still no specific reaction from Kia headquarters. It is probably not so surprising, considering that pickup release is not high on priority compared to the electric vehicle lineup expansion – as signified by the release of Kia EV9 as the new flagship model, which concept formerly previewed at the Los Angeles Auto Show.
The History of Kia and Pickup Truck Vehicle
Kia doesn't precisely have an impressive record with a pickup truck. However, that doesn't mean that the South Korea-based car manufacturer is not capable of stepping well into domains. This has been proven by the newly released mid-size SUV Telluride and sophisticated minivan Carnival. Furthermore, with the launch of Santa Fe by Hyundai, it is confirmed that long experience is not a requirement to release a whole new vehicle series.
While the U.S. market hasn't had a chance to encounter any pickup truck model from Kia, the automaker has been selling a commercial vehicle with several configurations since 1980 called the Bongo. Also known as the Kia Frontier, Kia K-Series, or Kia Kaon is offered in standard, double, and super cabins configurations. The Bongo is manufactured at factory plants in Indonesia, Uruguay, Ecuador, and Algeria, besides its own home country.
The Bongo engine is available in three options: 80-horsepower 2.7-liter, 85-horsepower 3.0-liter, and 130-horsepower 2.5-liter. The recent launch features 6-speed transmissions.
So, there's no doubt that Kia has the basic knowledge of pickup truck models. If Kia Truck 2022 ever comes to reality, looking at the current manufacturer's SUV lineups, it is expected to carry bold design and luxurious touches on high-end trim levels.
Where The Kia Pickup Truck Would Fit In The Market Segment
Many automobile experts have pointed out how Kia Truck 2022 would be a strong rival and possibly more favorable model compared to Hyundai Santa Cruz if it's ever come to see the light soon. The Santa Cruz follows the Tucson's uni-body platform, while Kia's one is predicted to bring a brand-new ladder frame chassis. While the low enthusiasm implies that the world shouldn't expect the rival of Ford Ranger to arrive anytime soon, there's still a potential to launch a smaller pickup truck like the Hyundai Santa Cruz.
As of recent, the market segment is not crowded yet, but the hype received by the Maverick and Santa Fe showed how the consumers are eager for smaller trucks. This provides a lot of space for other automaker brands to infiltrate the class.
Again, as stated by Meredith, if Kia had planned a pickup truck model, then it'd have come out by now. Even though Kia Truck 2022 probably remains a rumor, for now, you can still get excited by anticipating a stream of good releases from this particular brand this year.