2024 Jeep Rubicon: Review, Specs & Price – What is the first rule to curating an iconic model? Never leave your icon unattended. Stellantis is implementing its plan in order to convert all of the 14 brands' vehicles to electric over the next few years, but it does not want to neglect the stalwarts who still use combustion engines. The Jeep Wrangler and its patina on the Jeep line-up are important to keep in mind.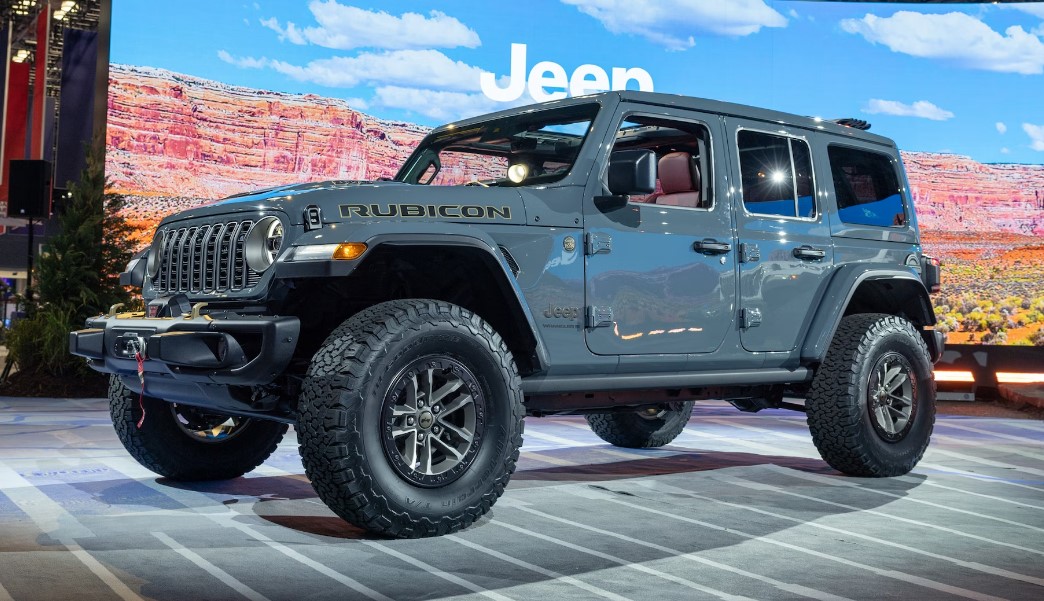 Review
The team behind Jeep's 2024 Wrangler has done just that. They have given it a mid-cycle update and introduced two new trim levels. All of this is designed to improve the comfort and features for the off-roader, while also adding some tech. Jim Morrison, the head of Jeep Brand North America says that these upgrades and new models were not made in response to Ford Bronco's competition. He says that competition is good, and it likely helped to drive the current all-time demand for Jeep. However, one can't help but read into the Wrangler changes to make them more livable in the face of Ford Bronco.
The sheet metal remains unchanged, but Jeep has given the SUV an update with a seven-slat grille first seen on the Wrangler Rubicon's 20th Anniversary Edition in 2023. These blacked-out slats have a slimmer profile, which makes it easier for the 2024 Jeep Rubicon hard-core models to install the Warn winch with an 8,000-pound capacity that is installed in the front bumper. Two tow hooks are located in the front and one at the back.
All four powertrains are carried over. The current powertrains are still available: 270 hp and 295 lb/ft for the 2.0-liter Turbocharged I-4, or 285 hp and 265 lb/ft for the 3.6-liter. Customers may also choose from the Hemi V-8 with 470 hp and 470 lb/ft torque, and the Wrangler plug-in Hybrid, which has a 2.0-liter I-4 turbocharged and an electric motor to produce This hybrid is also able to achieve 49 mpge, and can travel up to 21 miles using only electricity. The performance is the same, although fuel economy could improve slightly. EPA ratings have yet to be released.
The 4xe now comes with a PowerBox that has four household 120-volt outlets and 30 amps total to run a camping lamp or coffee maker in the home.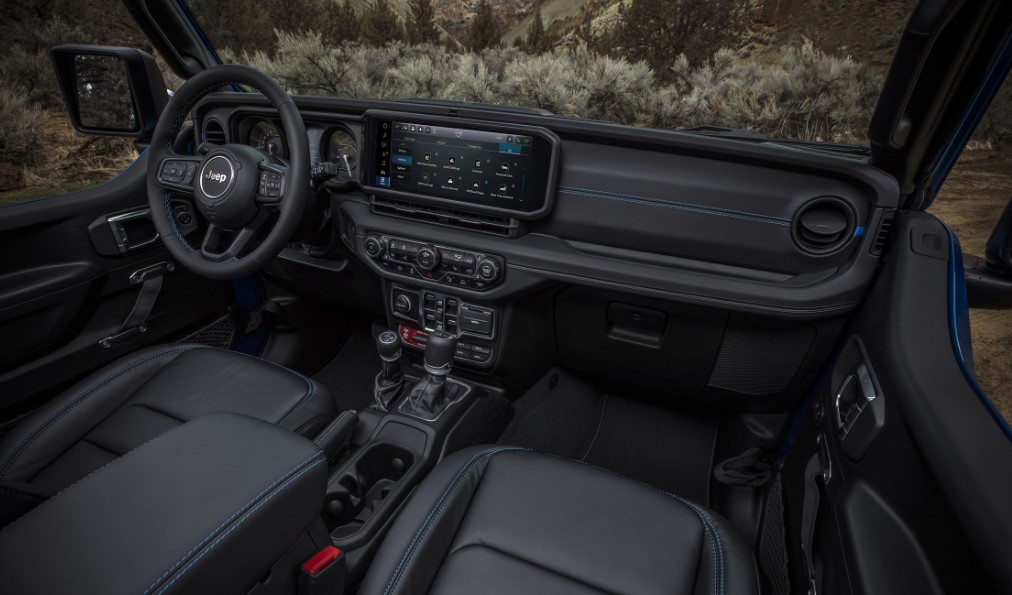 Interior
Inside, there are even more improvements. On the passenger's side, an integrated grab handle and a hand-wrapped instrument panel have been installed. Jeep replaced the round vents in the middle of the dashboard with a slimmer vent. The Wrangler still has its vents at the outermost positions. This freed up space for the Uconnect system, with its 12.3-inch screen infotainment that is now standard on all models. The screen is larger than any other Wrangler's, with full LED backlighting that produces crisper graphics in color and reduces glare. The 7.0-inch gauge cluster display is also included.
Stellantis Uconnect 5, which debuted in Grand Wagoneer, then Grand Cherokee and now Wrangler, runs on the new display. The larger display allows for easier reading of maps. Jeep has partnered up with Trails OffRoad for pre-loading maps of 62 Badge of Honor Trails. However, availability is expected to be later in the year. Subscribers can access a database of over 3,000 trails rated by users. The app also includes historical information and interesting facts about each location. Adventurers can save waypoints and create their own trails.
Uconnect5 supports five profiles, allowing for quicker access to features specific to the vehicle and to pages that are tailored to every model. An e-hybrid page for 4xe shows power flow, charging schedule, and driving history. Pages for off-road vehicles show dynamic vehicle behavior, including pitch and roll and camera views.
Jeep added sound-dampening and more microphones to the Wrangler's doors and roof, which makes it nearly impossible to make a call. The acoustic window, thicker carpeting, and sound-deadening material will make it possible to call your mother while you're driving at 70mph in the Wrangler.
Wireless Apple CarPlay or Android Auto is now available so that you can get rid of the cord. There is also a new accessory rack mounted to your dash for placing a smartphone.
The body-on-frame Wrangler isn't usually associated with comfort, but the 2024 model will have 12-way power-adjustable front seats in the highest trim levels. And yes, the seat, its mechanisms, and the water are all protected when they are submerged under the water.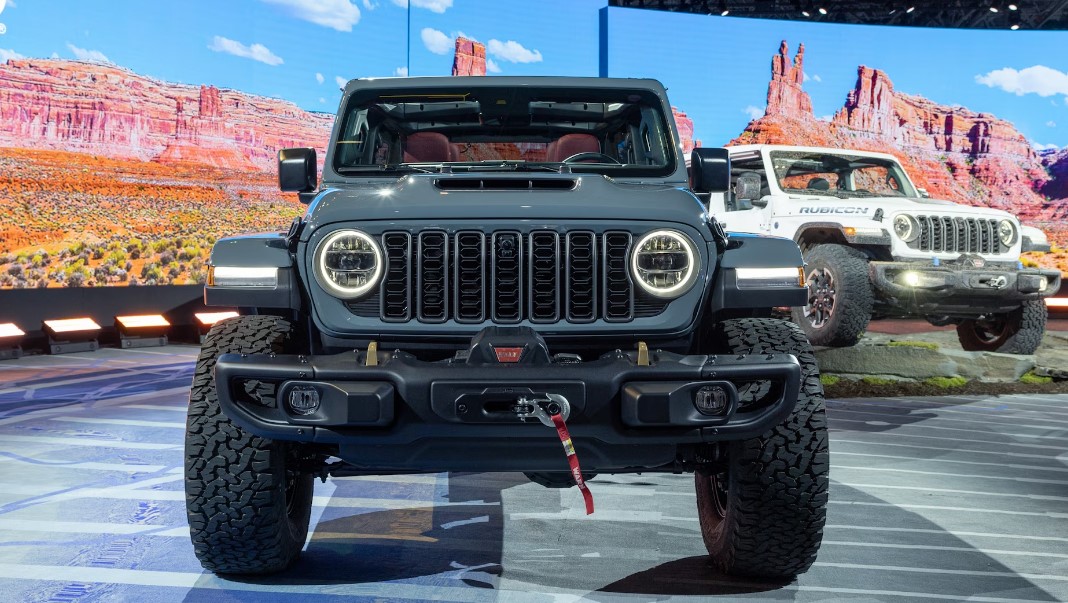 Engine
Jeep has replaced the semi-float Dana 44 with a Dana 44 solid full-float rear axle. This upgrade is sure to be a hit among Rubicon owners. This new axle allows for larger wheels and tires and increases towing capability. The full-float axles that are typically found in heavy-duty trucks allow the weight to be moved to the axle tube and not the shaft. This allows for a higher towing capacity of 5,000 pounds with Rubicon 2.0-liter or 3.6-liter models equipped with an eight-speed transmission. You can now tow that camper up the trail. Jeep offers four different 4WD systems. It also has a crawling ratio of up to 100 to 1.
There are also side-curtain safety airbags, as well as 10 new wheel designs ranging from 17-20 inches. The tire sizes in the 2024 line-up range from 35 inches up to 32. Updated Willys trim levels now come with 33-inch BFGs and have more ground clearance. They also include a rear locker as standard.
A cool new feature is the radio antenna integrated into the windshield. No more antennas getting tangled up by trees or being eaten by car wash machines.
Release Date and Price
Sport S 4xe is the trim at the lower end of the spectrum, while Rubicon X is the one closer to the higher price point. Morrison says the Sport S was created in response to customer demand for an affordable Sport 4xe. Morrison says that the Wrangler is America's most popular PHEV. The Sport S adds an affordable option for people who are looking to get 49 mpge-e with a pure electric range of 21 miles, thanks to its 400-volt batteries and two electric motors. Around 25 percent of Wranglers sold are 4xe. Jeep executives have not yet revealed when a full-electric Wrangler will be available, but Jeep Magneto's continued improvements hint at what may come.
Rubicon X comes with a lot of features, including 35-inch wheels that can be deadlocked, steel bumpers, and an off-road camera integrated into the vehicle to help you better navigate the trails. It also has a transfer case, which is full-time (on the Rubicon regular, it's only part-time). The Rubicon X is available in gas or 4xe powertrains.
These new trims are available on the Sport, Willys Sahara High Altitude Rubicon, and Rubicon 392.
Jeep opened up its order book, and models for 2024 will begin arriving at U.S. dealers later in the year. The pricing hasn't been announced, but it is not anticipated to be much higher than the current line-up. Wranglers will be available worldwide.