2024 Jeep Rubicon 392: Will There be a 2024 Rubicon 392? – We only just received the pricing of the 2024 Jeep Wrangler, which was unveiled at the New York Auto Show earlier this year. The base prices of most trims increased only slightly, as is normal for a new model year. Rubicon 392 – the top-of-the-line model – saw a $5,100 increase. The Wrangler can be upgraded to a six-figure vehicle.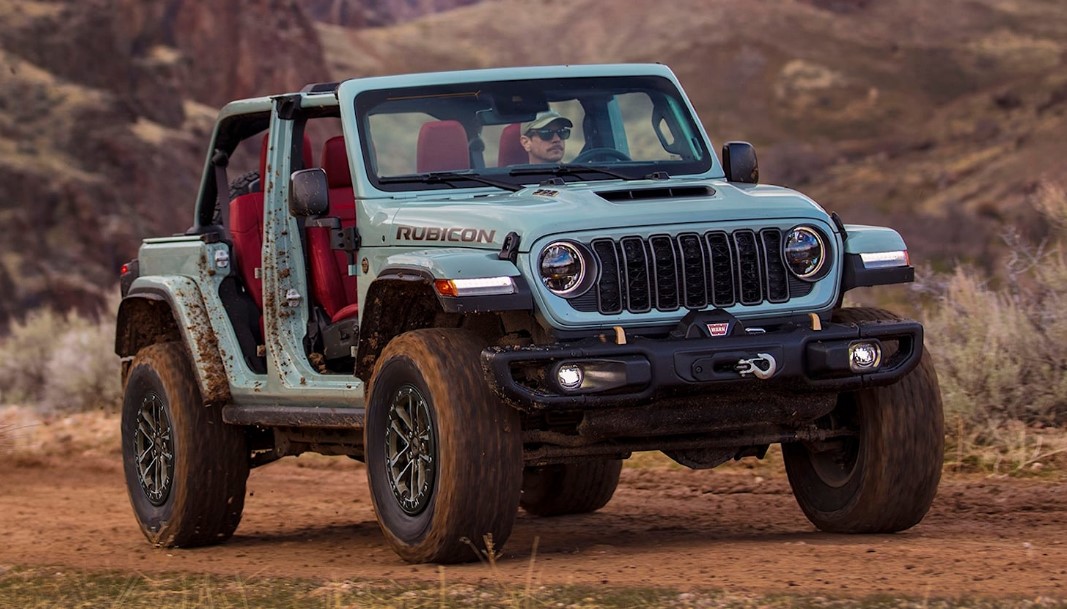 A fully-equipped 2024 Jeep Wrangler Rubicon 392, costs exactly $102,520. This includes Jeep's $1,795 mandatory destination fee, as well as a $775 RV-towing harness. Although technically a choice, it is not a practical item that will improve your Rubicon's driving experience. Without it, the price is still $101,745.
The 2024 Rubicon 392, despite its size, is not the first Jeep Wrangler to reach six figures. Rubicon 392's 20th Anniversary Edition took the honors in 2023. The basic package cost just under $90,000. However, adding the AEV Level II upgrade added an additional $20,135 to the sticker. The final cost is more than $110,000 based on basic math. However, Jeep's 20th Anniversary Edition was only produced in 150 total units.
It's easy, in the middle of all the talk about the outrageously expensive Wranglers that we forget to mention the fact that the popular off-roader can still be found at a much more affordable price. A two-door Sport model with an initial price of $33,690 is likely to be the least expensive Jeep Wrangler in 2024. This price gets you the white Jeep Wrangler with 17-inch standard wheels and a 285 horsepower 3.6-liter engine coupled with a 6-speed manual transmission. The Jeep is a great way to see the world beyond. Inside, it still has a 12.3-inch touchscreen and some driver assistance systems.
Review
Wrangler's most notable change is the addition of the 392, a vehicle geared towards off-roading. The Jeep is recognizable by its new seven-slot grille, which has a more subtle appearance but still leaves you with no doubt about the Jeep. This also allows for easier installation of the Warn winch, which has an 8,000-pound weight capacity. Jeep Wrangler Rubicon SUVs also come with a stealth antenna, which will not get tangled in foliage or branches while driving. For 2024, the Wrangler range will feature ten different wheel designs.
The 2024 Wrangler 392 Rubicon models come with LED headlamps, LED fog lights, and power-heated mirrors. They also have skid plates on the transfer case and fuel tank. Rubicon models are equipped with black tubular steel rock rails as standard. The 392 rides on beadlock-capable, 17-inch wheels in low gloss smoked bronze, wrapped in 35-inch BF Goodrich tires.
The roof is available in three different options, such as the Sunrider for Hardtops by Mopar. Quad tailpipes are unique to the Rubicon 392.
The Jeep Wrangler Rubicon 392, as it is commonly known, has a wheelbase that measures 118.4 inches. The Rubicon's overall length, including the spare, is 192.5 inches. This makes it the longest model of the entire range. The 2024 Jeep Rubicon 392 is also taller and wider, measuring 75.5 and 79.3 ins respectively.
The off-road orientation means that it boasts impressive angles of approach and departure at 46,7 degrees and 39,8 degrees respectively, with a breakover angle of 24,5 degrees. Ground clearance is 11.1 inches for the Rubicon 392. The Rubicon 392, with a curb weight of 5,268 pounds, is the heaviest in the line-up.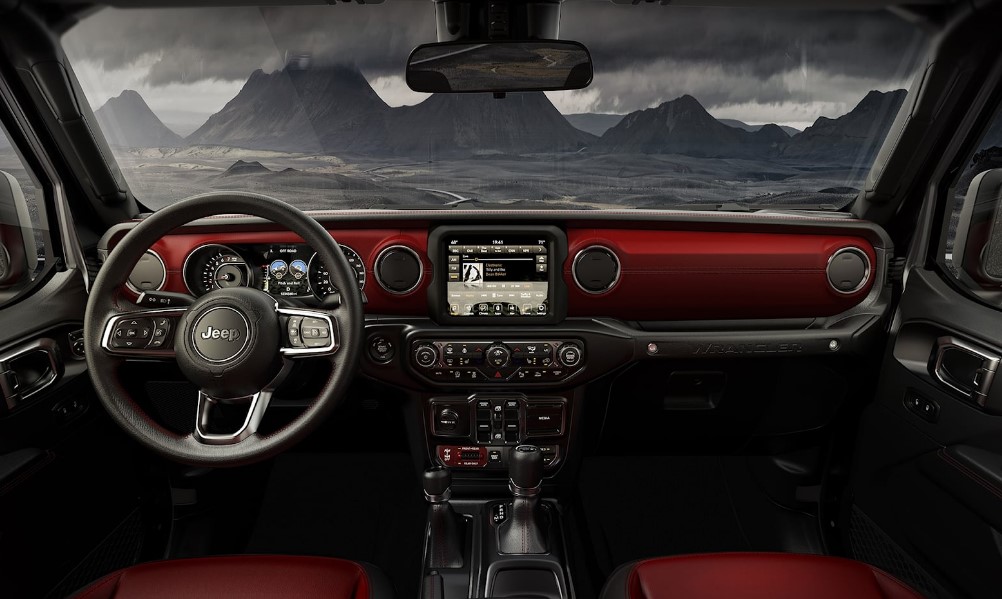 Interior
Jeep Wrangler Rubicon 392 interior is now more luxurious than before thanks to an extensive update for the 2017 model year. The 2024 Jeep Rubicon 392 top model has the same interior washable with drain plugs in case you are out of doors or roof and need to be able to get back into the car. It also doesn't sacrifice niceties. Seats are leather-trimmed and heated, with 12-way adjustable power. The Sport steering wheel has been heated. Dual-zone climate control comes standard. Interior lighting in LED. Remote keyless entry and start are also included as standard.
The Wrangler Rubicon 392 has five seats, but the space inside isn't great. That's not what this vehicle's about. The cabin has been upgraded with an Alpine nine-speaker sound system, a USB port, multiple power outlets, and USB ports. This includes side curtain airbags in the first and second rows, improved seatbelt tensioners, and structural improvements. As standard, the Rubicon's safety package includes a blind-spot monitor, rear park assistance, forward collision warning, and forward collision alert.
Trails Offroad is a new feature that includes a list of 62 Jeep Badge of Honor Trails with descriptions of the routes, waypoints to obstacles, points of interest, and a rating of difficulty. The 12.3-inch touchscreen, which is new and, according to the automaker, the best of its class, displays the information. A premium subscription can give you access to more than 3,000 trails.
It features Apple CarPlay wireless and Android Auto. The system is mounted to a new dashboard that feels sleeker. Uconnect 5 is the software that runs everything. It's quick, and it can be upgraded over the air. New features include the ability to store up to five profiles for users, a customizable home screen, OTA navigation maps, and dual-device Bluetooth connectivity.
The Wrangler 392 Rubicon has a large amount of cargo space. With the back seats up, you can get 31.7 cubic feet. When the seats are folded down, the volume increases to 72.4 cubic feet.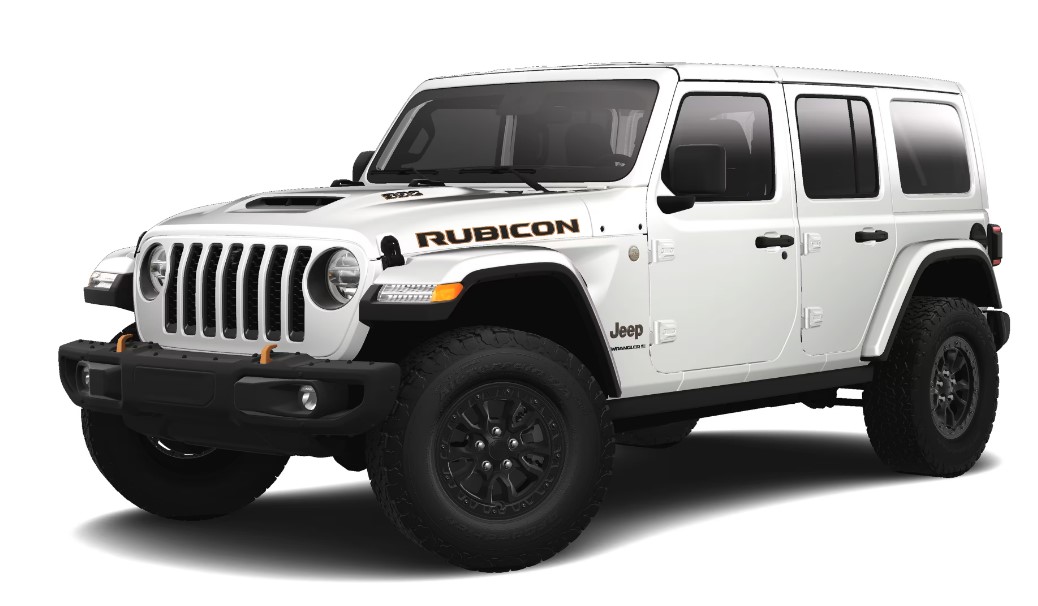 Engine
Jeep Wrangler Rubicon 392, a 6.4-liter engine, has 470 horsepower and 470 pounds-feet of torque. This model is specially tuned. The Jeep Wrangler Rubicon 392's 6.4-liter V8 engine is tuned to deliver 470 hp and 470 lb-ft of torque at idle speeds. This is perfect for climbing over obstacles but also allows a time from 0-60mph of just 4.5 seconds. Rubicon models have paddle shifters to give them a bit more engagement. The eight-speed auto is tuned specifically for high torque. Rubicon model 392 also come with Selec-Trac transfer cases that have a ratio of 4.72:1.
Cast iron V8 with twin plugs for each cylinder, a variable camshaft, an active intake manifold, and an aluminum head. The 392 model is equipped with an oil sump at the rear, as well as a high-mount alternator and free-flowing exhaust manifolds. The Jeep Wrangler Rubicon 392 also comes with an improved cooling hood and the Hydro-Guide intake system, which is a tri-level system of ducting that has a drain one-way in the airbox to separate incoming water from the air. The Jeep Wrangler Rubicon can cross water of up to 34″ even when water is washed over top.
This model comes with a Dana 44 HD solid full-float rear axle, which allows for easier tire upsizing. The package includes the Heavy Duty Electrical Group and Trailer Tow. The package includes a Class II receiver, a heavy-duty alternator with amps, and a Class II Hitch Receiver. It allows towing of up to 3,500 pounds. The Xtreme 35 Package comes standard on the 2024 Jeep Rubicon 392, which includes shocks that are designed to withstand heavy off-road use. An electronic front sway bar disconnect is also included for when the going gets rough.
The EPA numbers for the 2024 Jeep Wrangler models are still pending confirmation, but the 2023 model can be used as a benchmark. That model achieved 13/17/14 mpg on city/highway/combined cycles, which isn't great but isn't unexpected, either. According to the automaker, the new Jeeps are equipped with Fuel Saver Technology that uses cylinder deactivation to reduce engine power when not in use. The fuel economy may improve slightly, but shouldn't get worse.
Release Date
The Jeep Wrangler Rubicon is scheduled to be released in late 2023.