2023 Jeep Wrangler colors add Earl and Reign to the upgrades so the limited edition of the new Jeep production provides a special look and better performance.
The 2023 Jeep Wrangler resembles an off-roading vehicle suitable for any lifestyle. It receives a comprehensive mechanical and technology upgrade to look fresh. It also offers new 2023 Jeep Wrangler colors. It results in a stronger and more interesting driving experience.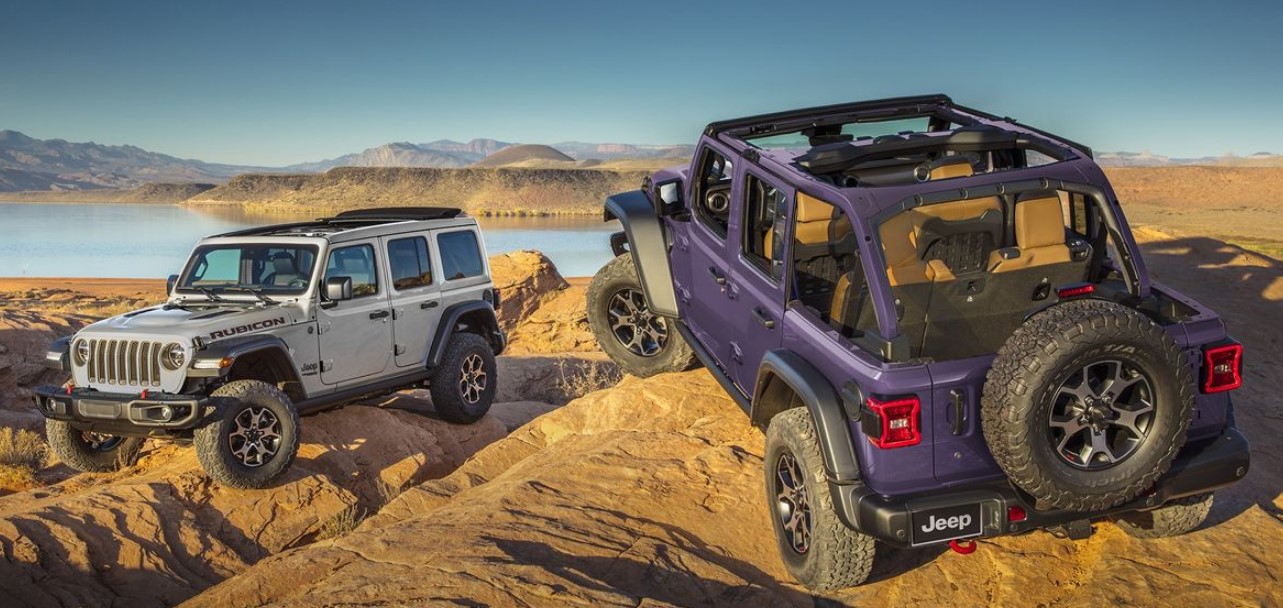 As the original icon of adventure, the 2023 Jeep Wrangler brings high-strength design and innovation with better safety and security features. Not just standard high-tech safety features, Rubicon 392 also gets advanced driving assist features. The features give every driver the thrill of exploring new territory.
Characters of 2023 Jeep Wrangler
The company will launch this Jeep Wrangler Freedom Edition for a limited time in 2023. It applies a military-themed exterior. It still comes with two-door or four-door unlimited and is available in six powertrain options. There is an American flag decal sitting on its front fenders.
The Wrangler Rubicon gets a new standard and optional set containing 17 inches wheels. Completing the upgrades, new 2023 Jeep Wrangler exterior colors are available to choose from. If you want to dig deeper into the new quality of this vehicle, consider the following quality details.
2023 Jeep Wrangler Colors
Jeep likely introduces a few special colors on its lineup each year. In 2023, they also give it to the Jeep Wrangler Freedom Edition to bring excitement to customers. Here are numerous fascinating color options for the 2023 Jeep Wrangler that meet any personality.
Black
Bright White
Firecracker Red
Granite Crystal
High Velocity
Hydro BlueSarge Green
Silver Zenith
Sting-Gray
Earl
Reign
Reign is the new purple color that reapplied in Jeep production after 2018. Meanwhile, Earl is a chalky gray with a touch of slight blue tint. Both colors are only available for Jeep Wrangler Freedom Edition in 2023.
Interior Design of 2023 Jeep Wrangler
Jeep equips the new Wrangler's interior with the latest tech features and maximum comfort. The stylish interior design makes this new Wrangler a perfect option to bring you the biggest adventures. It comes in various open-air styles allowing you to enjoy the sun, breeze, city nights, starry nights, and lights.
The 2023 Jeep Wrangler offers versatile storage with its adaptable cargo features. The interior design of this jeep allows the owner to clean it easily. Hence, it is the best vehicle for outdoor exploration even when you have to pass muddy roads.
Exterior Design of 2023 Jeep Wrangler
The exterior design of the new Wrangler looks rugged and timeless. This vehicle also has an iconic style as you can easily access open-air just by pressing one button. It is due to a high-strength hardtop with premium weather protection that enables you to enjoy fresh air and sun during the adventure.
The exterior design supports the Wrangler's aim for exploration. Hence, Jeep equips it with LED lights and a durable windshield for impressive capability to go through trails and drive in tough conditions. Even the Rubicon gets bold fender flares so it can support up to 35-inch tires.
Choose 2023 Jeep Wrangler Colors
You probably have a favorite color option from the 2023 Jeep Wrangler. However, do not forget to check the details of the specification so you can buy the one that matches your adventuring needs.