2023 Ford F250 King Ranch is expected to arrive like an all-around that it is now. Here are some predictions about its features and specifications.
If you are someone who keeps up with automobile news, even just casually, then you sure have heard of the Ranch trim grade by Ford. Making its debut in 2001 with the F150, it has been consistently showing itself up in this manufacturer's vehicle lineup, with its 2003 debut in the Super Duty lineup and its 2005 debut in the Expedition model. Now, with the possibility of the 2023 Ford F250 King Ranch being released this year, you may start to get yourself familiar with the feature and specification predictions regarding this exact variant.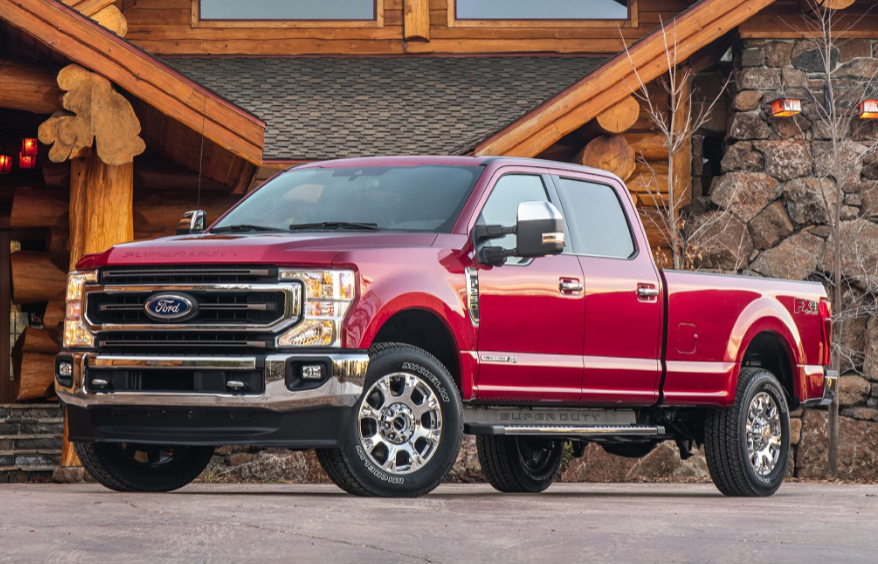 A Brief Insight into King Ranch Trim
Despite carrying King Ranch brand name as one of its trim packages, Ford doesn't actually own this legendary Texas heritage cuisine establishment. The American-based global automobile manufacturer only owns the license to legally use the trademarked name of 'King Ranch'.
So how did this seemingly unsuited crossover happen? It all started in 1999 when the partnership between Ford and King Ranch occurred. To put it simply, King Ranch required plenty of trucks then and Ford was searching for a licensing partner by the time. It is said King Ranch used a lot of, but an undisclosed number of—Ford 350 pickup trucks for their business operations. Therefore, the partnership was established and the following events are now history.
Whether it is in the upcoming 2023 Ford F250 King Ranch or in any other variants, this particular trim typically sits right underneath the Platinum trim grade with an almost comparable set of features as this high-end trim for the most parts.
The signature styling of King Ranch trim which is very likely to be carried into future productions is its chrome-rich exterior, premium leather-covered upholstery with several brown shade alternatives, 20" to 22" wheels, and the iconic 'Running W'-shaped logo. The rest of the styling details tend to follow the specific variant it is made available for.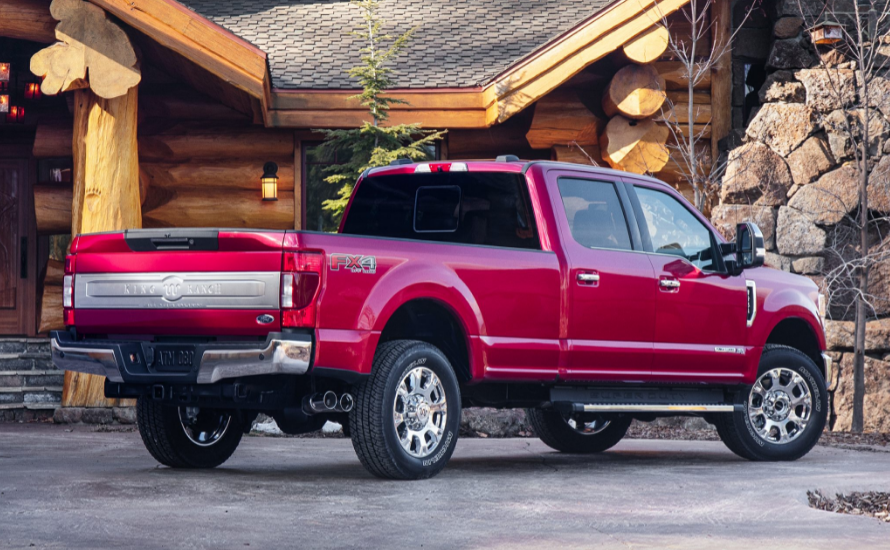 An Overview of F250 and Predictions of Its Upcoming Release
Now that you are already more familiar with the King Ranch trim, let's move into the Ford F250 in specific. It is a heavy-duty pickup truck with more than 8,500 lbs of GVWR (gross vehicle weight rating). With a high-performance V8 engine, it is a vehicle built to take a charge when working with less concern of efficiency, which may make it more suitable for countryside area uses and not-so befitting for suburban dwelled owners.
Amongst the Ford heavy-duty lineup, the F250 variant is what is often recommended by well-versed reviewers, with its crew cab, SRW axle, and 6.75 ft cargo bed. The 2023 Ford F250 King Ranch and other trim levels most probably will retain its current 385 HP 6.2L V8 engine that provides 430 lb-ft of torque. It is also likely to bring 6-speed automatic transmission again.
With the current expanding market of electric vehicles, whether it is an SUV or pickup truck segment, the public may be curious about the potential of an electrified Ford heavy-duty lineup to be produced. While this possibility may take place in the future, it apparently won't be in anytime soon.
According to the statement by the Ford officials in late 2021, the giant automaker currently does not have plans to equip their heavy-duty vehicles with an electric powertrain.
Even though the exact reason behind this statement is not explained further by the Ford executives, it is quite clear why the chance of putting a battery-powered engine in large trucks is not appealing. The physical limitation is the primary downside factor, followed by the cost. Another significant drawback is relatively low demand in the market for an EV Ford heavy-duty pickup truck.
2023 Model Year Arrival Date and Pricing Estimation
If the 2023 Ford F250 King Ranch is indeed going to arrive this year, then it is going to be the new model year for the fourth generation of Ford F-Series that was revealed at the State Fair of Texas 2015 as the 2017 model year. It has received various titles of the best pickup truck in its respective class segment, beating its rivals from Ram, Nissan, and General Motors. The last time this model received a facelift was in 2019 as a 2020 model year.
The exact pricing for the 2023 Ford F250 King Ranch hasn't been announced yet, but it most likely starts at around $57,000. The release date is not revealed as well by the company up to this point, but if it follows the tradition of the previous release, then it should arrive in the summer of 2022 after the production is conducted at Ohio Assembly Vegetation.