2024 Jeep Wrangler Rubicon 392: Price, Interior, & Specs – Since it was introduced for the 2021 model year, the Jeep Wrangler Rubicon 392 has reigned supreme on the off-road trail. Despite a move toward electrification in the form of the capable Wrangler 4xe, die-hard explorers prefer their off-roaders to look like this: sturdy, aggressive, and rugged – and powered by a 470-horsepower V8. The inside of the 2024 Jeep Wrangler Rubicon 392 receives modifications that not only make it seem a great deal more comfortable and up to date, but it also receives a large number of safety advancements along with new technology that comes standard. This features the exciting new Trails Offroad function, which fans of 4×4 vehicles will find to be a welcome addition. There is a good chance that this is the most impressive Rubicon 392 to date.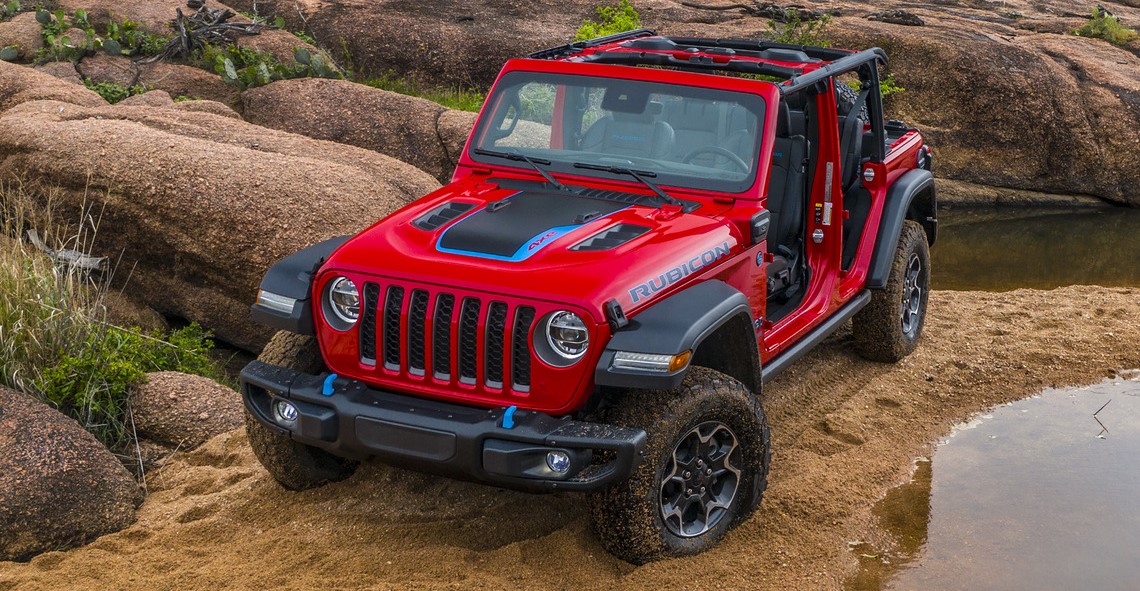 Changes
The most notable update to the Wrangler range is carried through to the 2024 Jeep Wrangler Rubicon 392 models, which are oriented on off-road driving. This features a new seven-slot grille that is significantly less in-your-face but still clearly identifies the vehicle as a Jeep despite its more subdued appearance. Additionally, it simplifies the installation of the optional Warn winch, which has a capacity of 8,000 pounds, and makes it simpler to mount the winch. When you are traveling through the great outdoors in your brand-new Jeep Wrangler Rubicon 392, you can take advantage of its integrated stealth antenna, which will not get entangled in tree branches or other types of vegetation. In addition, across the Wrangler product range, there are 10 new wheel design options for the year 2024.
The LED reflector headlights and LED fog lamps that come standard on the 2024 Jeep Wrangler Rubicon 392 versions are also included, along with power-heated external mirrors and skid protection for both the fuel tank and the transfer case. The Rubicon versions come standardly equipped with heavy-duty tubular steel rock rails in black, and the 392 rides on 17-inch beadlock-capable wheels with a low gloss smokey bronze finish. These wheels are wrapped in 35-inch BF Goodrich all-terrain tires.
Standard equipment includes two tow hooks in the front and one in the rear, as well as a body-color three-piece hardtop. Additionally, there are three different choices for the roof, one of which is the Sunrider for Hardtop by Mopar option. Quad tailpipes, which are part of a dual-pipe exhaust system, are something that can only be found on the Rubicon 392. For the exterior of the Jeep Wrangler Rubicon 392, you can choose from the standard color palette, which includes Earl, Firecracker Red, Granite Crystal, Silver Zynnith, High Velocity, Hydro Blue, Sarge, Bright White, and black. In addition, there is a brand new color available, which is named Anvil.
The Jeep Wrangler Rubicon 392 has dimensions that include a wheelbase that is 118.4 inches in length as standard. Because it comes equipped with the Xtreme 35 package as standard, the Rubicon 392 has the distinction of being the longest model in the lineup, with an overall length of 192.5 inches when the spare tire is taken into account. In addition to being higher and broader, it measures 79.3 inches across and 75.5 inches from the ground to the top of the highest point.
The vehicle was designed for off-road purposes, so it naturally has excellent approach and departure angles. These angles come in at 46.7 degrees and 39.8 degrees, respectively, while the breakover angle is 24.5 degrees. The ground clearance of the Rubicon 392 measures 11.1 inches. The Rubicon 392 boasts a value of 5,268 pounds for its curb weight, making it without a doubt the heaviest vehicle in the range.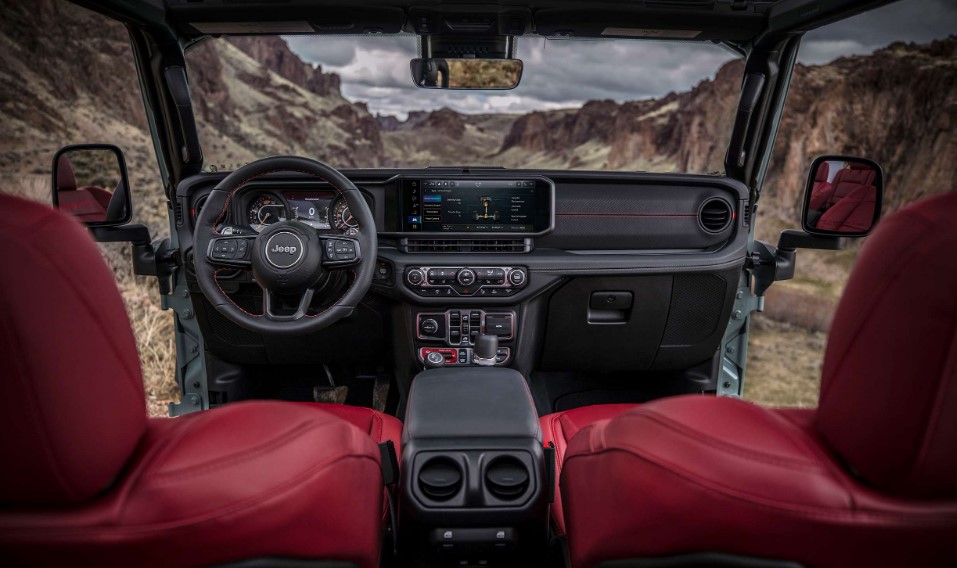 Interior
Because of the significant update that was performed for the current model year, the cabin of the Jeep Wrangler Rubicon 392 is now more attractive than it has ever been. The highest-end Rubicon 392 model features the same washable inside as the standard model, complete with drain plugs, for when you're out in the wilderness without a roof or doors, but it doesn't scrimp on the amenities either. The upholstery is leather, and there is heating and power adjustment for a total of 12 different positions on each front seat. Even the Sport steering wheel has a heating element built into it, there is basic temperature control for two separate zones, and the LED lighting type is used throughout the cabin. In addition, you will have remote keyless entry and remote start as standard features.
The Wrangler Rubicon 392 has five seats, but the inside room is not abundant. However, extensive interior space is not the primary focus of this vehicle. In spite of this, the inside is more well-appointed than ever before, including a nine-speaker Alpine sound system complete with a subwoofer, a plethora of power outlets, and USB connections, as well as a number of newly developed safety measures. The latter has upgraded seatbelt pre-tensioners, greater structural safety, as well as standard side-curtain airbags for the first and second rows of seating. The Rubicon 392 comes standard with safety features like a frontal collision warning, blind-spot monitoring, and rear park assist.
The Trails Offroad feature is brand new and features a catalog of 62 Jeep Badge of Honor trails with route descriptions, essential checkpoints for obstacles and areas of interest, as well as a difficulty rating. Additionally, the catalog includes a difficulty rating. It is presented directly on the 12.3-inch touchscreen, which is new and, according to the manufacturer, the finest in class. Additionally, it is possible to enhance it by selecting a premium membership that provides access to 3,000 different trail guides.
The entertainment system is equipped with both Apple CarPlay and Android Auto, and it is set on a newly designed dashboard that is more streamlined and exudes an air of premium sophistication than its predecessor. The Uconnect 5 software, which is both speedy and capable of being upgraded over the air, is the brains behind the operation. In addition, brand-new features include the capacity to store up to five user profiles, a home screen that can be personalized, over-the-air (OTA) maps for the navigation system, and dual-device Bluetooth connectivity.
The 2024 Jeep Wrangler Rubicon 392 has considerable capacity for cargo; with the back seats up, there are 31.7 cubic feet of accessible space, and folding those seats down expands the available space to 72.4 cubes.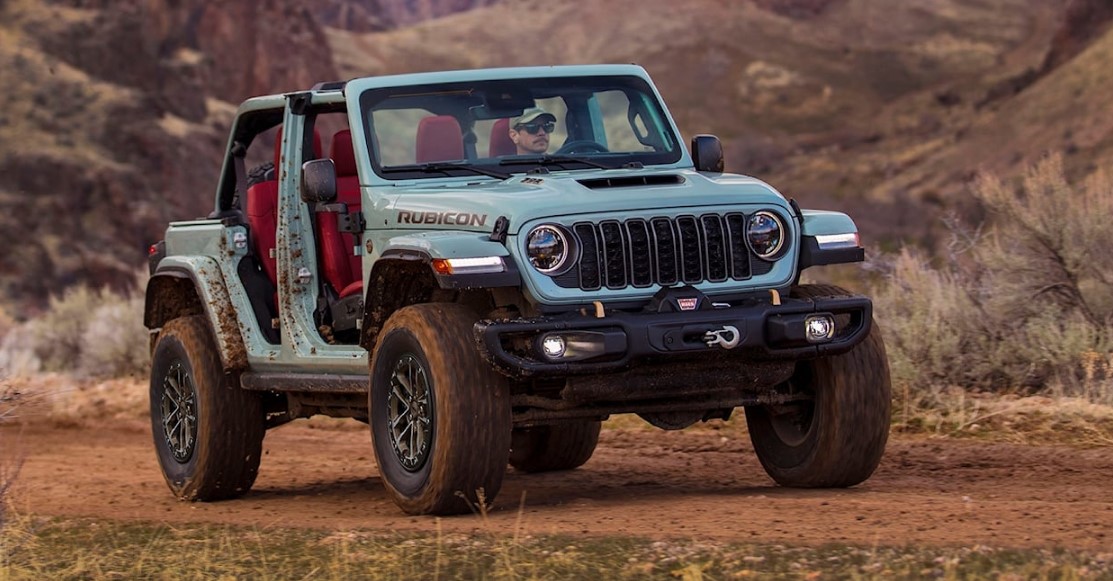 Engine and Performance
With 470 horsepower and 470 pound-feet of torque, the 6.4-liter V8 engine that comes standard on the Jeep Wrangler Rubicon 392 has been fine-tuned specifically for this model. It is possible to access about 75% of its peak torque at a speed slightly above the idle speed, which is perfect for crawling over difficult barriers. However, it is also sufficient to guarantee that the vehicle can accelerate from 0 to 60 miles per hour in 4.5 seconds. The engine is connected to an eight-speed automatic transmission that has been optimized specifically for the high torque system. Rubicon 392 vehicles are equipped with paddle shifters, which provide a little bit more driver involvement. In addition, the Rubicon 392 versions are equipped with a Selec-Trac full-time transfer case that has a 4LO ratio that is set at 2.72:1.
Cast in iron with aluminum heads, an active intake manifold, variable camshaft timing, and dual spark plugs in each cylinder are all features of the V8 engine that powers the vehicle. All 392 versions are equipped with a high-mount alternator, a rear-sump oil pan, and free-flowing exhaust manifolds as standard equipment. It also has a functioning hood scoop for increased cooling, and the Hydro-Guide air intake system is made up of a tri-level ducting system with a one-way drain in the air box to separate water from incoming air. Both of these features are included as part of the package. This indicates that the Jeep Wrangler Rubicon 392 can ford water up to 34 inches deep, regardless of whether or not the water washes over the top.
The Rubicon 392 now comes standard with a new Dana 44 HD full-float solid rear axle, which enables purchasers to upgrade to larger tires with more ease. Additionally, the trailer tow and Heavy Duty Electrical Group packages are now included as part of the standard equipment. This provides a Class II hitch receiver and a heavy-duty amp alternator, enabling the vehicle to pull a maximum of 3,500 pounds when properly equipped. Because the Xtreme 35 Package is standard equipment, the Rubicon 392 is equipped with special shocks that are designed to endure the rigors of off-road use, and an automatic front sway-bar disconnect enables the vehicle to have greater tire travel as the terrain becomes more challenging.
Although the Jeep Wrangler range's estimated gas economy for the 2024 model year has not yet been certified, we may make educated guesses based on the EPA ratings for the 2023 model. This model earned 13/17/14 mpg in the city, which isn't amazing but isn't surprising either. The highway mileage was higher than the combined mileage. The car manufacturer claims that the new Jeeps include Fuel Saver Technology with cylinder deactivation. This technology switches the engine over to four-cylinder mode when it is not under load in order to increase the vehicle's fuel economy. There is a possibility that the fuel economy may increase somewhat, but it certainly won't get any worse. There is the potential for a driving range of 300 miles with a gasoline tank that holds 21.5 gallons.
When It Will Be Available and Its Cost
The United States of America is already accepting pre-orders for the Jeep Wrangler Rubicon 392, and the vehicle is scheduled to be on sale in the latter part of 2023. The price of the 2024 Jeep Wrangler Rubicon 392 is unknown to us at this time; however, given the several significant improvements that have been implemented, it is quite probable that it will be several thousand dollars more than what customers are paying at the moment. The base model of the 2023 Rubicon 392 has a manufacturer's suggested retail price (MSRP) of $82,495 before extras and excluding destination costs; it is not unreasonable to anticipate paying more than $85,000 for the 2024 iteration.
Although there are no direct competitors that can fully compare, the Ford Bronco Raptor is an option that should not be discounted. Additionally, it is a capable off-roader, and the base price for the 2023 model is $83,580. Its V6 engine produces 418 horsepower and 440 pound-feet of torque, which is less power than the engine in the Rubicon 392, but it makes up for it with its iconic appearance and tremendous off-roading legacy.