2024 VW Atlas Cross Sport: Price, Interior & Release Date – At the Chicago Auto Show, Volkswagen debuted the 2024 Atlas and Atlas Cross Sport, two SUV models that saw just minor revisions. In addition to the interior's complete makeover, the external design has also undergone some minor alterations. In addition, Volkswagen alters its engine lineup.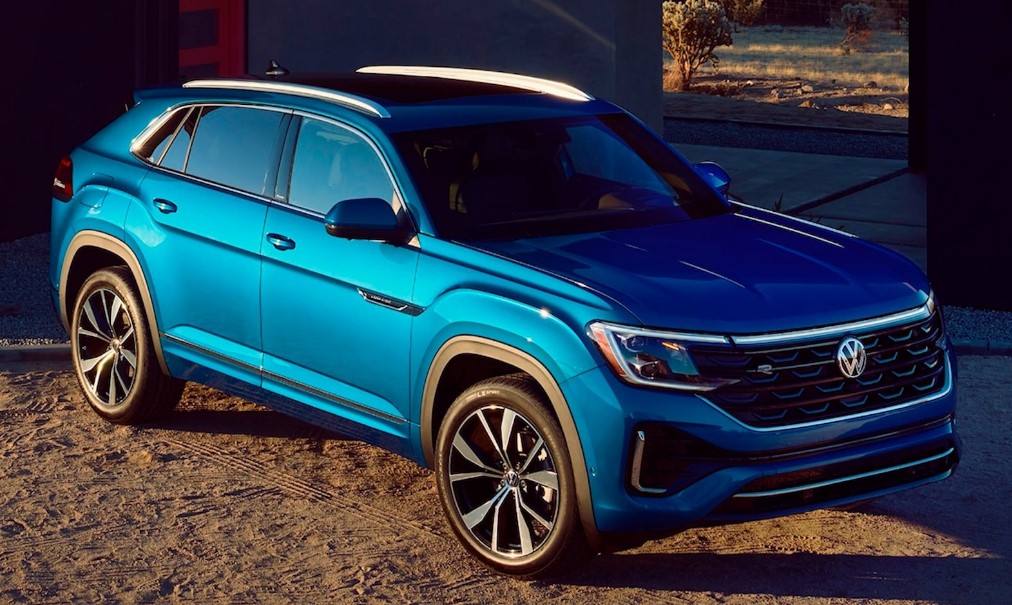 Engine
To begin, Volkswagen will only offer one engine choice, which is a turbocharged four-cylinder displacing 2.0 liters and sporting a direct injection system. Both the option to upgrade to a V6 and Volkswagen's VR6 engine will be discontinued in the United States as a result of this change. The modified four-cylinder engine now has an increased output of 269 horsepower and 273 pound-feet of torque, which are both increases of 34 and 15 respectively. In terms of horsepower, it is still below the previous V6, but it now outdoes it in terms of torque.
VW predicts that the Atlas will have an acceleration from 0 to 60 miles per hour is around half a second better than its predecessor, and it will also deliver higher fuel efficiency. However, official EPA estimations won't be available until the Atlas is closer to its launch date. The maximum trailer weight capacity has not changed from 5,000 pounds, and the eight-speed automatic gearbox that VW uses to shift gears is also unchanged. Both front-wheel drive (FWD) and all-wheel drive (AWD) will continue to be available as paid upgrades.
Changes
When it is dark, modifications to the outside become more noticeable. The new daytime running lights take up all of the front fasciae of the Atlas and 2024 VW Atlas Cross Sport, making them the primary design element. These new lights, as well as the light-up VW emblem that can be seen in the photographs, come standard on all trim levels of the Atlas except for the basic model, which has a front fascia that is not lighted up and a classic VW insignia.
The front fascia of each vehicle has been modernized with redesigned side air intakes, and the coupe-ified version of the Cross Sport has gained distinctive gloss-black trim features to differentiate itself. Both Atlas variants get rear spoilers that are bigger, as well as full-width back taillights; however, the basic vehicles do not have this feature.
New wheel designs are offered across the board, and selections vary from 18 inches to 21 inches in diameter. The largest wheels, which are 21 inches in diameter, are included only with the R-Line look versions. Finally, the Cross Sport has a unique rear diffuser that gives it a sportier appearance than its brother, which has a more conventionally structured body.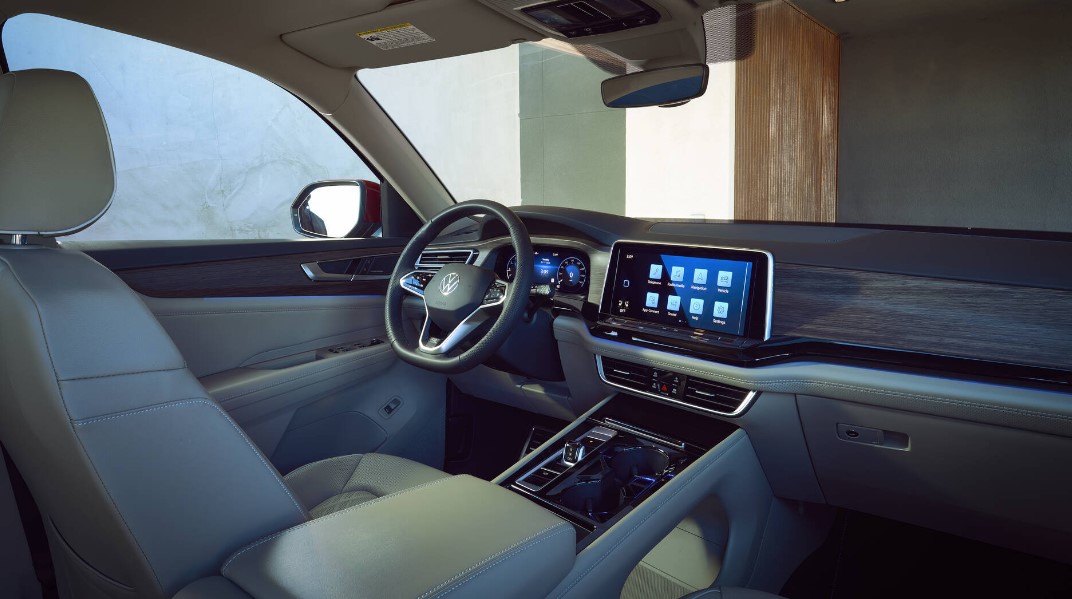 Interior
The Volkswagen Atlas and 2024 VW Atlas Cross Sport both have Volkswagen's most recent range of interior technologies. This indicates that the Atlas will come equipped with Volkswagen's Digital Cockpit Pro infotainment system, which will be shown on a touchscreen measuring 12 inches. Additionally, it comes with Volkswagen's Climatronic touch controls, which can be used to alter the temperature. while we tested the new control stack in the GTI and the Golf R, we were really dissatisfied with its performance, and it seems that we will have a very similar experience while evaluating the new Atlas.
Having said that, Volkswagen has said that it would be delivering software upgrades to the system that is found in the Atlas, which should result in an improved experience in comparison to that of the GTI and the Golf R. Alongside the new entertainment system is a new digital instrument cluster with a 10.25-inch display that is fully programmable and comes standard. Wireless Apple CarPlay, wireless Android Auto, and wireless phone charging are all included, but if you need to plug in your device, there are eight USB-C connections accessible around the cabin that you may use instead.
Because Volkswagen's latest infotainment and temperature control system is an all-in-one solution, the whole interior needs to be redesigned to accommodate it. The Atlas has a completely redesigned center stack, dashboard, and door panel layout, which you will immediately notice. The new shifter utilizes the same sort of nub that is seen in automatic GTIs and Golf Rs. The name of the particular model is illuminated and shown in front of the passenger on an attractive light-up dashboard, and ambient lighting is now simply there wherever one looks. It is all extremely streamlined and simple, but once we get our hands on a new Atlas, we will determine how user-friendly the cabin may be for most people.
Other significant modifications include a brand-new leatherette dashboard as well as a leatherette center console to provide more soft-touch surfaces. In addition, VW makes available quilted leather seats in the highest trim level of the Atlas, all in an attempt to make the cabin of the Atlas seem more upscale. There are now more options that come as standard, including those that are very wanted such as ventilated front seats, a heated steering wheel (with shift paddles), and a height-adjustable passenger seat. A heads-up display (HUD), which was previously absent on Atlas, is now included in the top-tier version of Atlas as well. On the technological front, Volkswagen incorporates its IQ driver assistance suite as standard equipment. This ensures that each Atlas will be equipped with VW's lane-centering system, in addition to other driver-aid features like adaptive cruise control, blind spot monitoring, and front and rear emergency braking. The Travel Assist feature is available to be added as an alternative.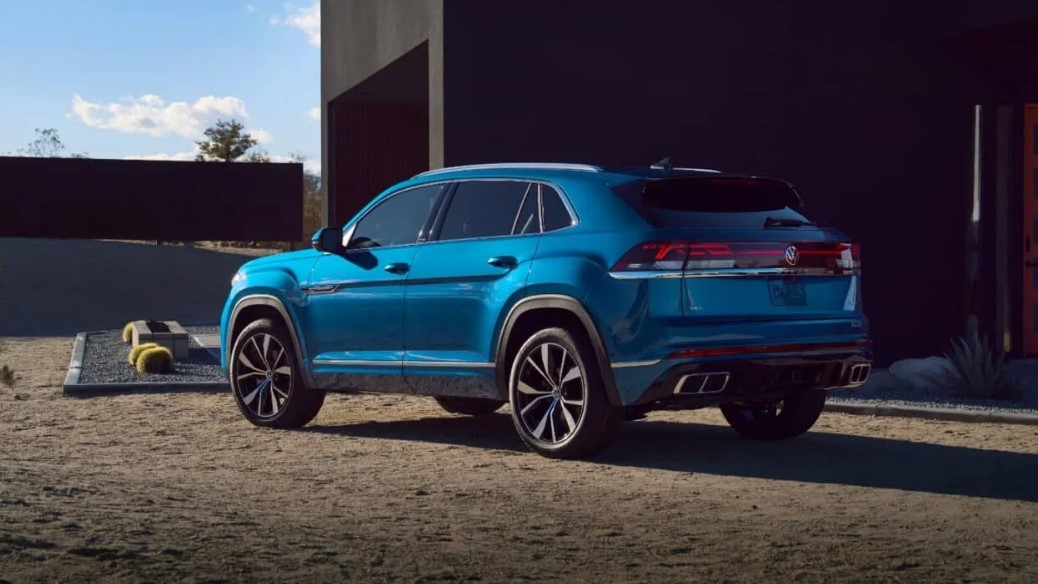 Release Date and Price
Volkswagen has not released any information on pricing for the 2024 Atlas or the 2024 VW Atlas Cross Sport; however, you can anticipate that this information will be made public closer to the third quarter of 2023 when both models will go on sale.