2024 GMC Sierra EV Denali Edition 1: Review, Price & Release Date – GMC is set to have two electric trucks by 2024, the Sierra EV and the Hummer EV. Sierra is a utility-oriented pickup truck that shares many similarities with the Silverado EV, its Chevrolet badged sibling. Denali Edition 1 is still the most luxurious model, with a two-motor all-wheel drive powertrain that boasts 754 horsepower. It will also cost over $100,000. Elevation, AT4, and other models will be available in 2025 at lower prices with less aggressive performance claims. Sierra EV is only available as a crew-cab model with a 5-foot-11-inch bed.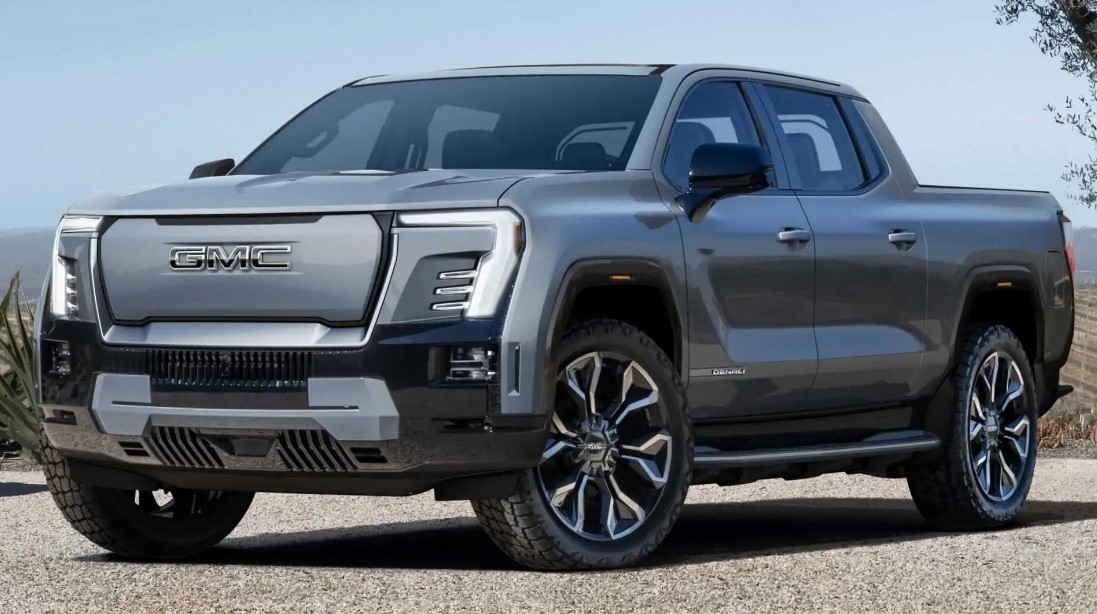 Review
Sierra EV will only be available as Denali Edition 1 at first. It will be fully equipped with plenty of features and an electric drivetrain. For the model year 2025, there will be more trim levels.
The 2024 GMC Sierra EV Denali Edition 1 is the sole model for Sierra EV's first year. It's a luxury pickup with the features we've come to expect. GMC says that lower trim levels start at around $50,000.
Sierra EV is only available as a crew cab with a nearly 6-foot-long bed. It should have a roomy interior and a comfortable back seat. GMC also offers a function called mid-gate that extends the bed to the interior of the vehicle, allowing longer items. A large trunk is also located in front of the car, where an engine normally would be. Denali also features leather and open-pored wood, which is in keeping with its premium price.
Standard infotainment is a 16-inch touchscreen, with an array of connectivity options. This includes Apple CarPlay or Android Auto mirroring functionality. A digital gauge cluster measuring 11.0 inches is also included. Also included is a wireless charging pad for smartphones.
Denali is distinguished by its distinctive interiors and materials as well as exclusive technologies. It has been the epitome of GMC luxury. The new 2024 GMC Sierra EV Denali Edition 1 delivers that same signature experience in a fully-electric vehicle.
The new fixed panoramic glass roof, which stretches over both rows in the cabin and creates an airy atmosphere, is one of these expressions. It gives the impression of a larger space. It is UV-coated and infrared-reflective to keep cabins comfortable.
Interiors are open and spacious, while attention to detail creates a clean modern aesthetic. The distinctive Denali logo and quilting on the seatbacks are familiar, but the Sierra EV Denali features a rich new quilting design that evokes the boldness of the vehicle. The interior is a reflection of this attention to detail and use of premium materials, from the precision finishing on doors to the sweeping lines in authentic open-pored wood found on the instrument panel. A wireless inductive charger9 is also new, finished in open-pored wood to create the feeling of modern lines and surfaces.
Bose's audio system features a wood decor with accents in aluminum and even stainless steel etched on speaker grilles. The electric vehicle sound enhancement, which Bose developed, also enhances the sensory experience of the driver.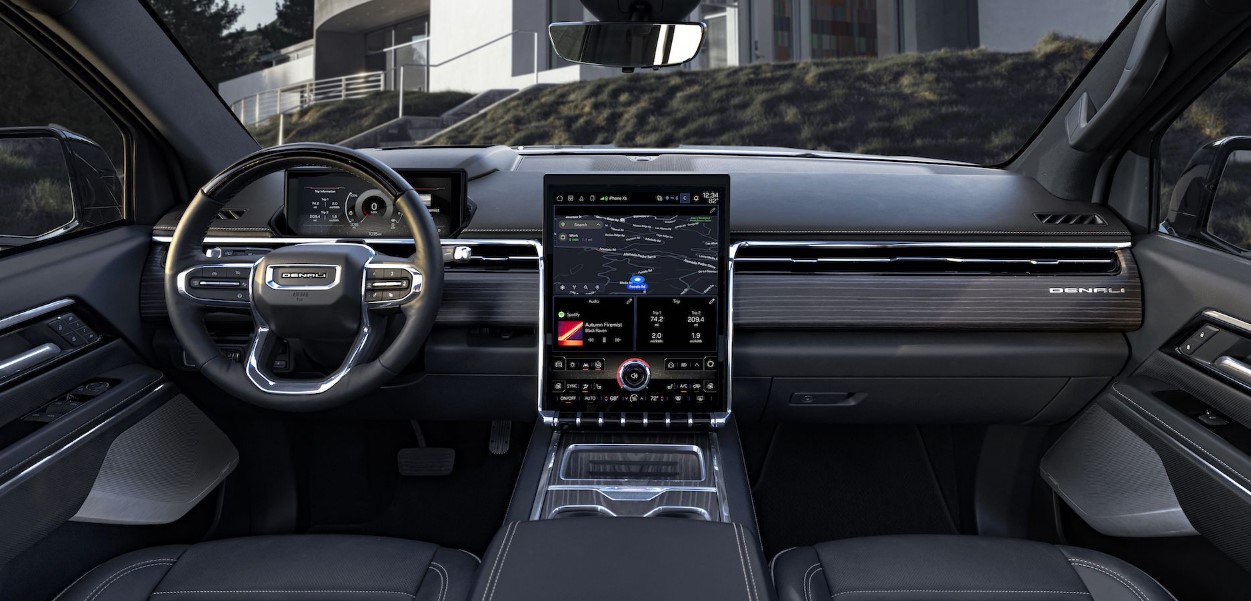 Engine
Sierra EV Denali Edition 1 comes standard with a powerful drivetrain made up of front and rear motors. GMC claims that this will allow the truck to reach 60 mph within 4.5 seconds. There are also plenty of tricks that the Sierra has up its sleeve. These include an air suspension system that allows the truck to be raised and lowered, and a "crab-walk" feature similar to the Hummer EV that turns the rear wheels the same way as the front ones in order for the truck's diagonal movement. The Sierra will have a variety of driving modes that will alter its character. It will also feature regenerative brakes, including a "one-pedal" option which uses regen in order to significantly slow down the truck when the accelerator is lifted.
GMC says that Sierra EV can tow up to 9500 pounds. At this time, we are unsure if the Sierra EV's maximum towing capacity requires certain features. We will update this article when we have more information about Sierra's optional and standard features.
2024 GMC Sierra EV Denali Edition 1 boasts a driving range of up to 400 miles per charge. (GMC is yet to specify the exact size of its battery). The truck will be able to fast-charge at 350 kilowatts. GMC claims that if you find a station with this capability, you will be able to add 100 miles to your range within 10 minutes. The battery pack of the Sierra EV in less expensive models will be smaller and not provide the same range as that found on the Denali.
We haven't yet had a chance to test drive the Sierra EV on the 75-mph fuel-efficiency highway route. We'll be updating this article with the results of our tests when we have them.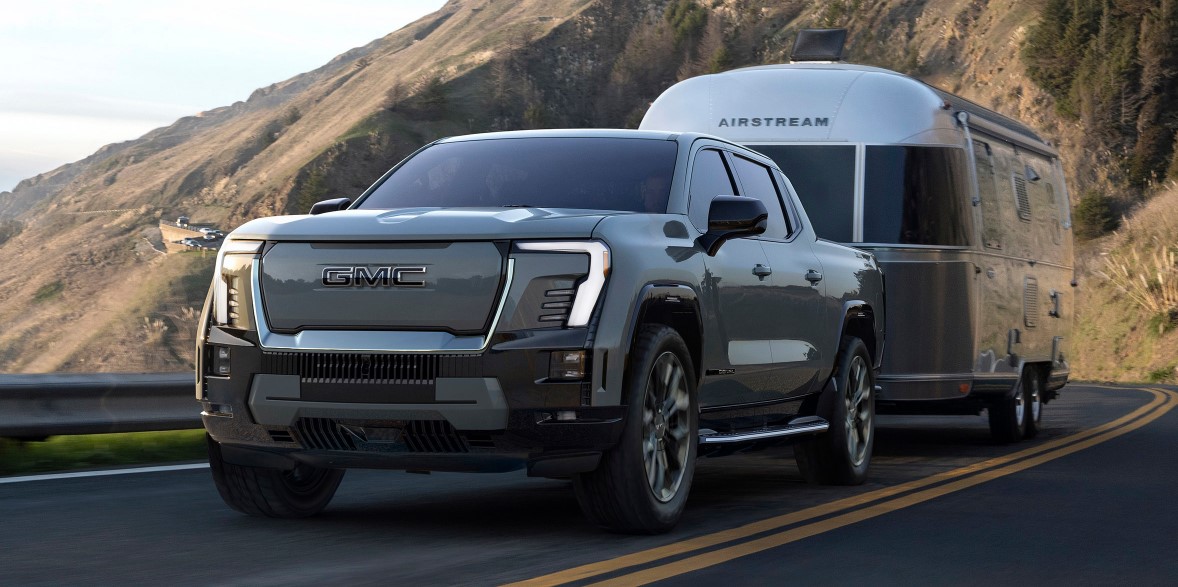 Pricing and Release Date
The 2024 GMC Sierra EV Denali Edition 1 is expected to be delivered in the first quarter of 2024. Its MSRP will start at $107,000. More details on the entire range of Sierra EVs will be revealed closer to production starting, and MSRPs start at around $50,000.