2024 GMC Sierra Denali EV: Price, Range & Review  – Chevrolet recently unveiled an electric version of the popular Silverado pickup. It was only a matter of time before GMC introduced the twin. This model is finally here, and now we have the all-electric Sierra in the most luxurious variant with the Denali badge. The first model to arrive is the GMC Sierra Denali EV Edition 1 2024, which is equipped with the best setup. It is also the most luxurious pickup. It is expected that the "standard" will arrive shortly after and may have a bit less power.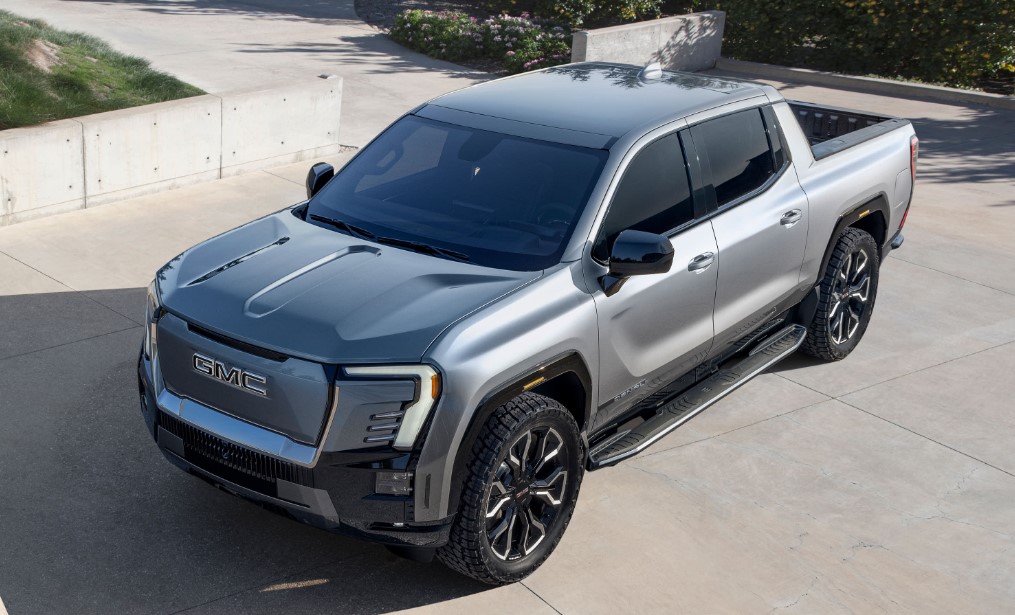 The all-electric Sierra is sure to have many great features, including a few very impressive powertrain options, an elegant cabin, and a sleek design. First up will be the 2024 Sierra Denali EV Edition 1, which will cost six figures.
Design
GMC Sierra Denali EV Edition1 2024 is the first all-electric Sierra. Many things have in common with Silverado EV, which was recently introduced. Both models are based on the same platform and use the same battery technology. This particular Denali version comes with an improved suspension system that provides for a more comfortable and smoother ride.
Sierra is expected to have a similar design as the Silverado but with an upscale approach. Chevy's pick-up is intended to be accessible and comes with some basic versions. The Sierra, on the other hand, has a completely different design, with many classic GMC features. Both the headlights and the rest of the front look like the Sierra standard, but they are modified to make them appear more futuristic.
Interior
The dashboard is much more luxurious and stylish than the Silverado. The layout is typical of electric cars. Everything has been simplified and all the controls can be found on the huge infotainment display at the middle stack. It has a 16.8-inch diagonal infotainment display, an 11-inch digital instrument cluster, and all sorts of connectivity options, such as wireless Apple CarPlay, Android Auto, or wireless charging. Denali Edition 1 is made of luxurious materials such as leather, open-pored wood, etc.
GMC Sierra Denali Electric Vehicle will only be available in crew-cab configurations. The cabin is spacious, and can easily accommodate two adults. There is also a large cargo area behind the cabin and a frunk in front. The space where the engine used to be can now be utilized.
Engine
The GMC Sierra Denali EV Edition 1 2024 will have the best setup of the entire lineup. The 2024 GMC Sierra Denali EV Edition 1 will feature electric motors in both axles with maximum outputs of 754 horsepower, and 785 pounds-feet. This will allow the vehicle to go from 0 to 60 in 4.5 seconds. The maximum towing capacity is around 10,000 pounds.
Later, we will see more affordable models and they are likely to share the same powertrain as Silverado Electric Vehicle. The two versions would have 510 horsepower and 664 HP, and both with an electric motor on each axle and four-wheel standard drive.
We count on 200-kWh batteries to provide up to 400-mile range. You can also expect impressive charging rates of 350 kW when using a DC charger. This will allow you to increase your range by 100 miles in only 10 minutes.
Under the hood, there is nothing but storage. The GMC Sierra EV also has a large front trunk or "frunk" like the Hummer EV. Denali Edition 1 has the highest performance. The electric drivetrain, front and rear engines, and its 754 horsepower give the Denali Edition 1 785 pound-feet of torque. It can reach 60 mph in just 4.5 seconds. The AT4 and Elevation models will not be as powerful and, as previously mentioned, these two versions won't go on sale before later next year.
According to estimations, the top-end Sierra EV Denali Edition 1 offers a driving range of 400 miles. Elevation, AT4, and AT5 will probably have smaller batteries, which means a slightly less-ranged vehicle. All versions of Sierra EV will use the same GM Ultium Platform, which means that they are all capable of fast charging at 350 kilowatts. This allows the Sierra to regain 100 miles in 10 minutes using a DC quick charger.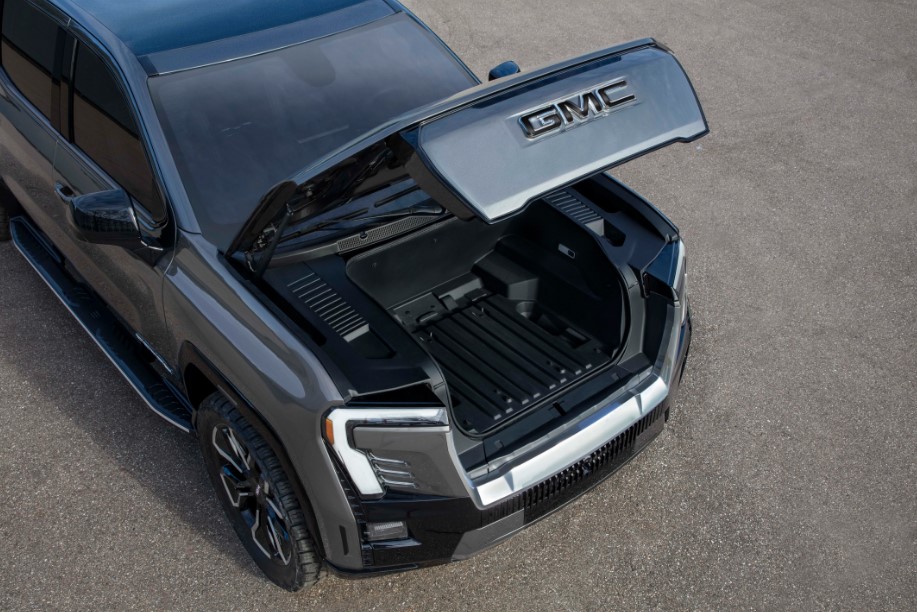 Release Date and Price
We know that the initial 2024 GMC Sierra Denali EV will be launched soon and cost approximately 108.500 US dollars. Later, more basic versions are expected and they will, naturally, be cheaper.