Growing into a mid-sized SUV, the 2023 Kia Sportage has standard safety and comfort features. It will rival Tucson, Escape, and RAV4.
2023 Kia Sportage stands out from the compact crossover crowd with its extroverted design. The unconventional face of Kia features a series of headlights with an unusual look and a unique grille design. The bold body is also wider than the previous generation, which means more luggage space and a more spacious interior.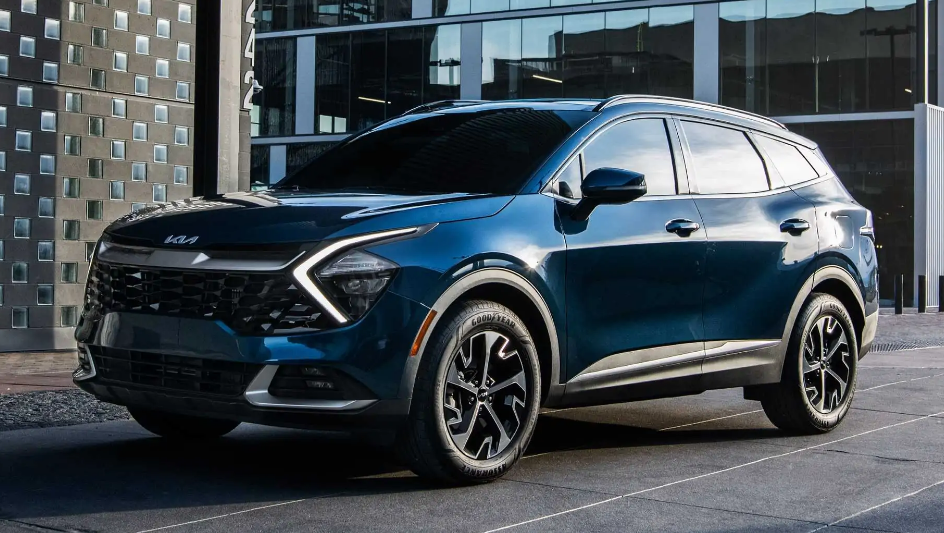 Expectations of 2023 Sportage
Moving inside, the 2023 Kia Sportage is impressive and loaded with technology, including a large dashboard-mounted display. The motive comes from the 187 HP, 226 HP, 4-cylinder hybrid powertrain, or the more powerful plug-in hybrid models with an estimated 32-mile electric range. In fierce competition with segment advocates like Mazda CX-5 and updated foes like the new Honda CRV, the Sportage 2023 has to prove that it has more than just a wild look.
The Sportage will enter a new generation of 2023 models that will appear in showrooms early next year. The changes compared to its predecessor include the newly available hybrid drive and plug-in hybrid. The latest addition offers competitors to Kia alternative plugins, such as the Hyundai Tucson, Toyota RAV4 Prime, and Mitsubishi Outlander.
Engines of 2023 Sportage
The Sportage's standard powertrain is a 187 HP 2.5-liter 4-cylinder, combined with an automatic transmission of 8-speed. The hybrid combines a 1.6-liter turbocharged 4-cylinder engine with an electric motor, producing a total of 226 HP. Drivetrains can be combined with FWD or AWD. There is also a plug-in hybrid AWD which shares the motor with a regular hybrid but adds a stronger motor and a larger battery. Kia claims the PHEV variant can run 32 miles depending on electricity only.
2023 Kia Sportage utilizes a new platform with an extended wheelbase, which is said to help improve driving dynamics and reduce vibration and noise. The introduction of tough-looking fairings like X-Line brings the impression of a compact off-road vehicle. However, the X-Pro has a few tools to help with the rough. The car uses 17-inch black rims and off-road tires, and you have a choice of driving modes.
The base 2.5 liters 4-cylinder Sportage is compatible with 32 mpg on the highway and 25 mpg in the city when paired with FWD. The all-wheel-drive model has been evaluated at 28 mpg on the highway and 23 mpg in the city. The EPA has yet to release fuel economy figures for plug-in hybrid and hybrid models but expects both to be more fuel-efficient than non-hybrid models. Being able to test on a simple 75-mile route that's part of an extensive testing program will allow you to evaluate your true MPG.
Interior of 2023 Sportage
From the interior, we will be presented with a great and cool Sportage design, accented by a large dashboard digital screen and various other interesting details. The images show an interesting two combined color scheme. The dashboard vents' shape varies widely. The center console has a rotating shift key, push start button, and various other controls integrated into the black piano frame. Due to its large overall dimensions and long wheelbase, the Sportage provides ample legroom for the rear seats and cargo space with 40 cubic feet dimension behind the rear seats. There is also a two-story walkway for added versatility.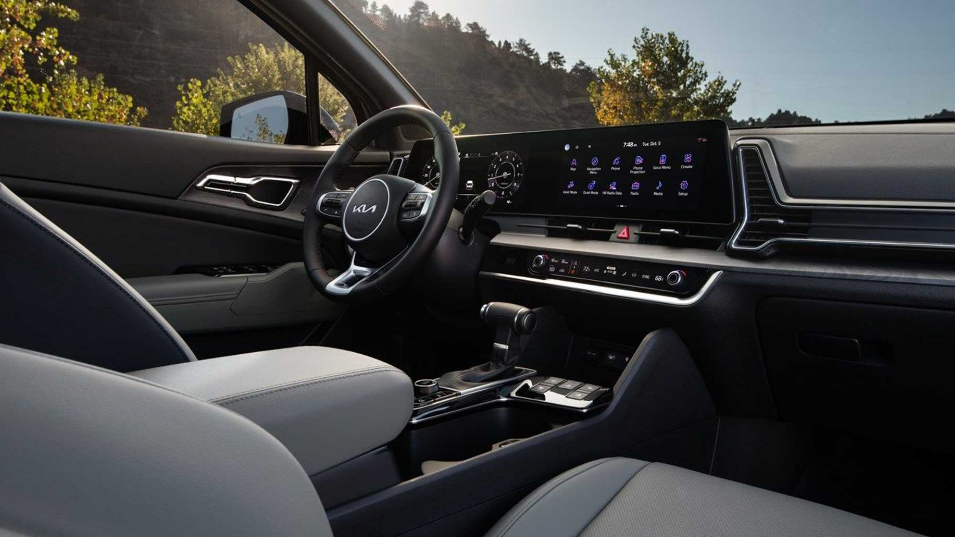 In terms of infotainment, Android Auto and Apple CarPlay feature become necessarily standard for Sportage. In addition, there's a 12.3-inch touchscreen that forms a seamless display on the dashboard. Beneath the infotainment interface is also touch-sensitive controls that switch between the stereo and climate system. Besides subscription-based cordless phone chargers and Wi-Fi hotspots, updated Harman/Kardon devices are also available.
The 2023 Kia Sportage is equipped with various optional and standard driver assistance technologies. The list contains all from remote parking features to adaptable cruise control. The remote parking features are importantly the same as the modern smart park systems of Hyundai.
Price and Warranty of 2023 Sportage
Kia offers one of the finest warranty packages on the market with the longest industrial warranty on the powertrain. However, it needs free maintenance like the one offered by its rivals, Toyota and Hyundai. Kia offers a 5-year or 60,000-mile limited warranty and a 10-year or 100,000-mile powertrain warranty. Unfortunately, there is no free routine maintenance.
The prices have gone up by at least $1,900 since last year, and the remodeled Sportage LX starts at $27,205, which includes a target price of $1,215. AWD is $1,800 more expensive. The expanded range includes the LX, EX, SX, X-Line, X-Pro, S-X Prestige, and X-Pro Prestige. AWD is standard on the X-Line and X-Pro models. The X-Pro Prestige rules the list for $38,005. The price for both plug-in hybrid and hybrid 2023 Kia Sportage will be released later this year.