The Chevrolet Express has been happening for decades without any notable redesign. Discover here whether the 2023 Chevy Express is going to be similar.
With several decades of presence without significant changes, there's hardly anything left to scrutinize about the full-size van Express from Chevrolet. It simply continues being a functional vehicle, with an array of engine options and two platform configurations. Over the years, the Express has received powertrain upgrades and slight facelifts—just enough to give it a splash of novelty. Find out how the 2023 Chevy Express is going to uncover next below.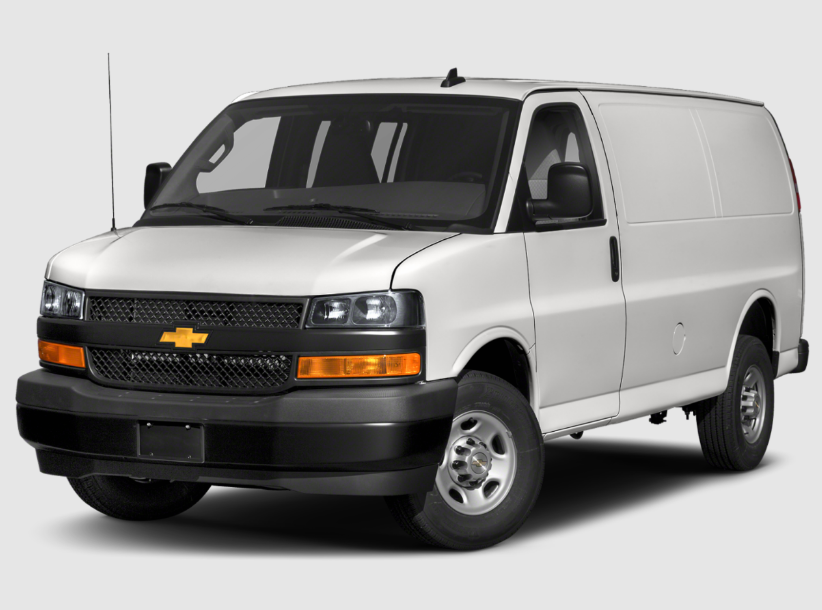 A Brief Profile of the Chevy Express
The Chevrolet Express is a full-size vans series manufactured by General Motors, which once was rebadged in 2003 as the GMC Savanna. This model persists in its design for a significant length of time already, having its last full redesign that happened back in 1996 when it received a new name from 'Sportvan' to 'Express'. As a passenger van vehicle that's mainly marketed in North America, the Express has gained a considerable share of consumers in its segment, with primary rivals of Ford E-Series, Ford Transit, Mercedes-Benz Sprinter, and the cargo van variant of Ram ProMaster.
ALSO READ: 2022 Chevelle
There are three versions of Express offered: 1500, 2500, and 3500. The 3500 is a van with a capacity of 15 passengers, thanks to its extended wheelbase. It also has two trim grades, namely LS and LT trim levels.
Knowing the history, it's almost certain that the upcoming 2023 Chevy Express will carry the same bodywork it gained from the 2003 mid-cycle refresher. This revision included upgrades of the chassis and frame as well as the exterior of the front windshield. Carrying a clear inspiration from the 1999 full-size truck GMT800, it also brought a newer front fascia and a higher hood line. The Chevrolet Express celebrated its 25th production anniversary upon the 2021 model year launch, following the longevity of the G-series Chevy Van that currently is in its 3rd generation.
Similar Powertrain to Be Expected
Perhaps it isn't an extreme exaggeration to say that the Express is the embodiment of the saying "Don't fix what's not broken." As marked previously, there is no major change it acquired since the early 2000s.
The 2023 Chevy Express is very likely to remove offering its array of powertrains. Family-oriented buyers may choose the 4.3L V6 engine that generates 276 HP and 298 lb-ft of torque, paired with an 8-speed auto transmission. Those who look for more power may prefer the 6.6L V8 engine that produces 401 HP and 464 lb-ft of torque, paired with a 6-speed auto transmission. On the other hand, if fuel economy is the number one priority, then the 2.8L 4-cylinder diesel-powered version that produces 181 HP and 369 lb-ft of torque is a better choice, is paired with an 8-speed auto transmission. The maximum towing and payload capacity that the Express offers are 7000 lbs and 4280 lbs respectively.
As you may have or have not known, GM is planning to launch a new passenger Chevy EV as a part of its full EV lineup expansion. According to industry analysts, it should fall into the category that Express is currently in. That being said, there's yet to be any word about the possibility of an electric version of the Express.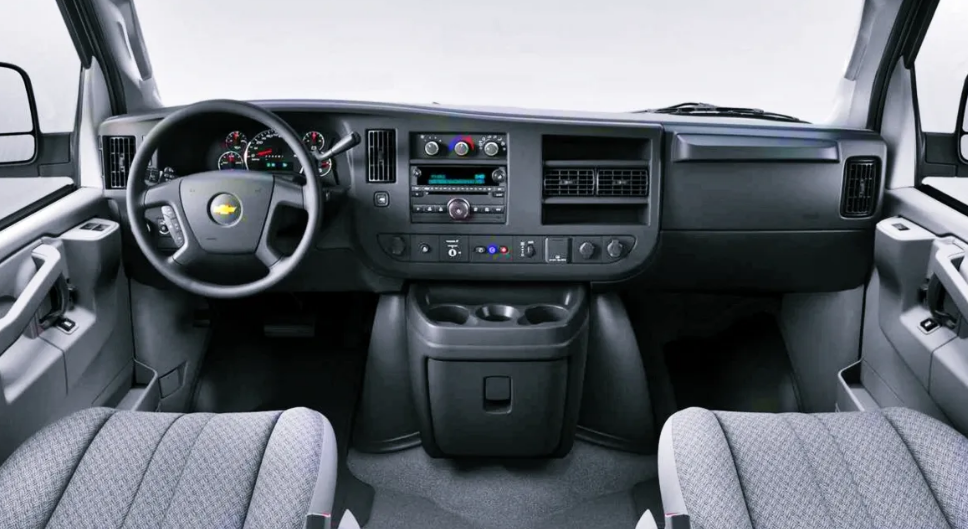 Predominantly Maintained Design and Features
The interval between each redesign of the Chevy Express tends to be very distant, even though this part is a norm for full-size van models. Up until now, since its initial release in 1996, the Express is still in its 1st generation. The evidence of its age is apparent by looking at its interior design which looks quite outdated according to the current standard. In comparison, its tight competitor, the Mercedes-Benz Sprinter received upgrades in 2019, providing a far more modern and premium-looking cabin.
The 2023 Chevy Express is expected to retain most parts of its existing features. AM/FM stereo radio and onboard Wi-Fi come standard for all variants. Bluetooth connectivity is available as an option when it's bumped with Communications packages, which includes satellite radio and a CD player that was ditched from the base package in the previous model year. The set of features is also completed by a navigation system and a 6.5" touchscreen display.
Uncertain Release Schedule of New Generation
The 2023 Chevy Express is going to mark the 27th year since its debut. For better or worse, there's no sign yet that this model is going to be discontinued soon. At this point, there's still no official report of when the next generation of this passenger van will arrive.