2023 Chevy Colorado ZR2 Bison will be the best performing off-road vehicle when it is launched later this year. According to a recent report, the new truck will come with many significant upgrades.
2023 Chevy Colorado ZR2 Bison is an exclusive track as the result of a collaboration between Chevrolet and American Expedition Vehicles (AEV) to provide a greater experience to enthusiastic customers. While the latest model of Colorado ZR2 is already great, this Bison variant is specifically designed to tackle more technical or complex terrain.
ALSO READ: 2022 Chevelle SS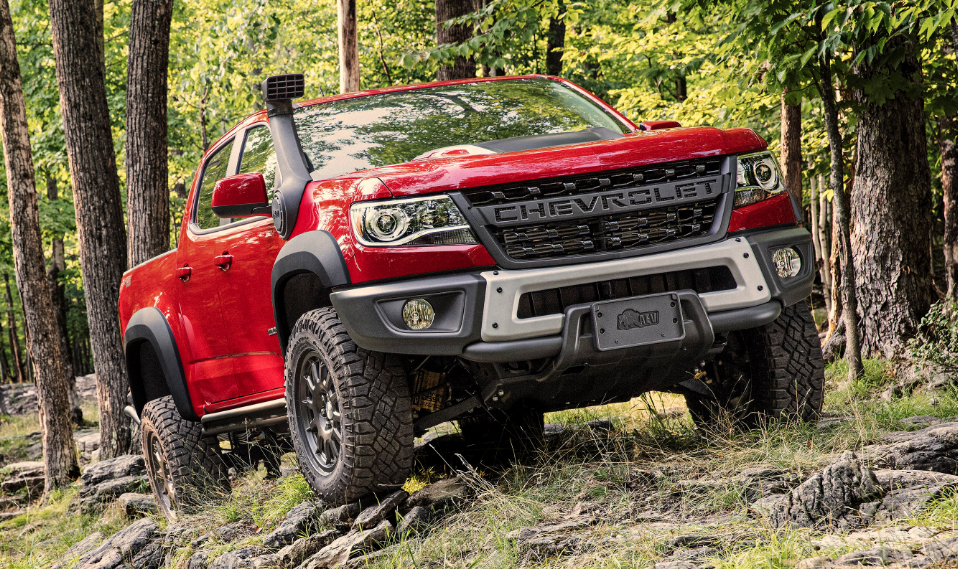 The Brief Overview
Chevrolet and AEV take this truck to the next level with the addition of skid plate protection, a Warn winch, additional lighting options, and a large HighMark Fender Flare. To add to its malignant impression, ZR2 Bison uses Crestone DualSport wheels wrapped in 35" BFGoodrich tires. The suspension of this truck is known to be extraordinary because the system is tuned directly from the manufacturer. Therefore, AEV really worked hard and meticulously to finalize this package in order to keep the performance of the manufacturer suspension as much as possible. You could say the ZR2 Bison offers a very impressive off-road experience without any handling, driving safety, and quality is sacrificed.
The Detailed Features
It can be said 2023 Chevy Colorado ZR2 Bison with a warn winch is perfect for you who are adventurous seekers. You, as an adventurer, must prepare yourself to face all challenges that you may encounter while exploring. A warn winch will help you with that. The addition of an optional Warn 9.5xp-s winch behind the front bumper without causing any bad effects on vehicle cooling confirms this is indeed a truck for adventurers.
Moreover, the 35" BFGoodrich tires used on the ZR2 Bison do look quite tall and big. That's why AEV uses HighMark Fender Flares to provide sufficient clearance and coverage for these tires. Of course, the performance of ZR2's factory-set suspension that's already highly capable has not been reduced due to the use of HighMark Fender Flares.
The style of the ZR2 Bison will be more modern with the use of the Crestone DualSport Wheel. These wheels guarantee versatility and sturdiness for adventure seekers as they head out into extreme terrain. Silver and onyx color options are available for the protection rings and deadlocks.
On the front right-hand side of the 2023 Chevy Colorado ZR2 Bison, you'll find AEV's snorkel kits inspired by heavy-duty industries and militaries around the world. This snorkel kit is designed and applied to ZR2 Bison. It provides the best air circulation and improves engine performance. The way these snorkel works is quite simple by sucking in as much cold and clean air as possible. If the weather or the surrounding air is bad when you drive, there is an optional Sy-Klone pre-filter that can clean the air automatically.
The rear bumper of this all-in-one truck has also been upgraded with the addition of robust tubular steel corner protection and heavy-duty recovery points. In addition, to support lighting when driving at night or in dark places, Baja Design rear bumper lights have been prepared as an optional choice.
All vehicles assembled at their headquarters in Wixom, Michigan, will have an elegant serial numbered VIN plate, windshield banner, custom gauge cluster overlay, embroidered headrests, and an exclusive AEV exterior badge. They do everything in the best detail possible.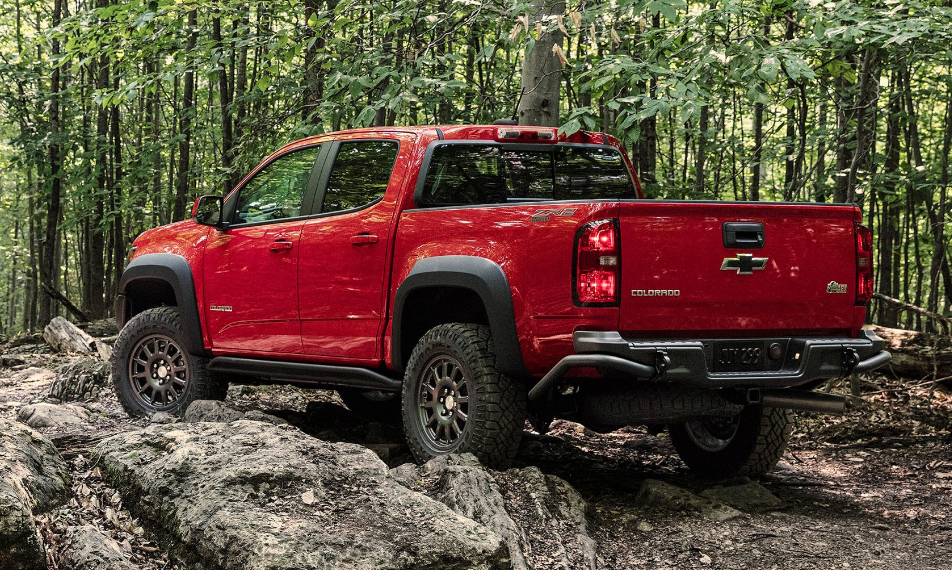 No More Diesel Engine?
Diesel production of Chevy Colorado and GMC Canyon will be discontinued as General Motors prepares for production of the next generation for GMC Canyon 2023 and Chevy Colorado 2023. Both are powered by a 2.7-liter turbocharged i4 engine only. The L3B petrol engine is a function promotion option. 2.7 liter I4L 3B petrol engine with turbocharger produces 310 hp with a torque increase of 430 lb-ft combined with a 10-speed automatic transmission. For comparison, the Chevrolet Colorado Diesel and GMC Canyon are equipped with a Duramax 2.8 liter I4LWN turbo-diesel engine that produces 181 horsepower and 369 lb-ft of torque mated to a 6-speed automatic transmission.
Estimated Debut and Release Date
2023 Chevy Colorado ZR2 Bison will reportedly be available in late 2022. The exact release date is still unknown, but the new Colorado truck may arrive in September. This off-road pickup offers a more aggressive design, new off-road equipment, and a completely new interior.
The performance is good, especially with the optional diesel engine. For the price, it starts at $47,000, and a fully equipped 2023 Chevy Colorado ZR2 Bison truck costs over $60,000. As usual, the Ford Ranger Raptor will be the biggest competitor in the heavy-duty truck segment.